South Carolina: 'Tastiest Peach State'
Tuesday, June 14, 2011 4:42 PM by Kat Leitner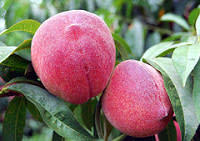 With
Columbia's
summer temperatures already living up to their "famously hot" reputation, there is no better time to enjoy cool and refreshing local produce. The summer season brings a bounty of local crops, including
South Carolina
peaches. Working with Mother Nature, our growers produce tree ripened peaches bursting with juice and flavor. SC peaches began arriving in farmers markets and grocery stores in late May, and will be available through September. Early harvests are clingstone varieties, popularly used for southern classics like peach cobbler. In mid-June, freestone peaches will ripen. These are most often enjoyed on their own. South Carolina is the largest peach producer east of the Mississippi River. Because of the slightly acidic soil, humid nights, and hot days our peaches are the tastiest and juiciest available.
If you're looking for a good South Carolina peach, check out the new
South Carolina State Farmers Market
. The market is conveniently located less than two miles off of I-26 or I-77, in West Columbia. Also check out any of the
community-based farmers markets
in the Columbia area. They're a great way to buy locally grown fruits and vegetables and you can even meet the people who grew your food. To find a market closest to you, search the full listing of community farmers markets on the Certified South Carolina website at
http://www.certifiedscgrown.com/
. The South Carolina Peach Council, along with the state's Department of Agriculture, has been working with grocery stores to ensure South Carolina peaches are given top billing. When shopping in your favorite grocery store, look for the Certified SC Grown logo. If you don't see South Carolina peaches, just ask your produce manager. To taste the difference for yourself, bite into a fresh, locally grown South Carolina peach and you'll see why we're the 'Tastier Peach State.'
Contributed by guest blogger, Sara Moore, rising Senior at the University of South Carolina and intern with the SC Department of Agriculture through the summer.  Be sure to follow the SC Department of Agriculture
on
Facebook
 and
Twitter
.