Terra Chef Takes Favorite Columbia Dishes, Epicurean Philosophy to NPR and NY
Tuesday, November 3, 2009 12:03 PM by Guest Blogger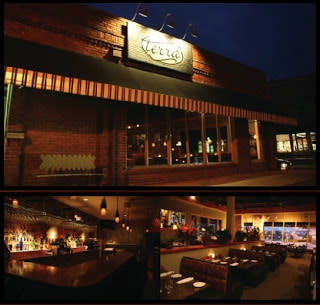 Columbia
locals have always known that
Terra's
BBQ lamb shoulder with
stuffed mac and cheese gratin
can go toe-to-toe with the country's best dishes â?¦ now
Chef/owner Mike Davis
is deservedly sharing his signature creations and culinary philosophy with a wider audience, garnering attention from
National Public Radio
and the prestigious
James Beard Foundation
in New York.
A longtime advocate of combining fresh local ingredients in palate-expanding ways, Chef Davis is first taking his message national with a November appearance on NPR's nationally syndicated '
A Chef's Table
'. Listeners from New York to Los Angeles tune in every week to hear Philadelphia-based Chef Jim Coleman (who also hosts PBS's Flavors of Americ
a
) talk turkey with transformative chefs such as French Laundry's Thomas Keller, Le Bernardin's Eric Ripert and Top Chef's Tom Colicchio. Chef Davis will join their ranks as he shares insights from his childhood on family farms, favorite fall foods and why fresh, seasonal ingredients make any dish better.
As soon as he's back in the kitchen, Chef Davis will then begin assembling the menu for a February 9 dinner at the James Beard House in New York City. Dedicated to celebrating, preserving and nurturing America's culinary heritage, the James Beard Foundation is widely considered a gastronomic standard bearer. An invitation to cook at this revered facility is a career high point and coveted endorsement for any chef. In addition to 3-5 passed hors d'oeuvres, Chef Davis will prepare a five-course menu with matching wine selections and dessert that reflects Terra's signature >Slow Food Columbia, Chef Davis is also planning on showcasing South Carolina ingredients for the 'Southern Roots' themed dinner.
Despite the national acclaim, Chef Davis remains focused on Terra's primary mission: bringing the artistry of simple ingredients and time-honored culinary techniques to Columbia. In addition to dishes to be featured at the James Beard House, it's important to Davis, his wife Taje, and everyone's favorite House Manager and Certified Specialist of Wine Howard Jarrett that you can also drop in for a casual drink or enjoy a $10 wood-fired pizza. Open for dinner Tuesday through Saturday at 100 State St., just over the Gervais Street bridge and seven stoplights from the Statehouse, Terra is all about approachable dining for new visitors and locals who just can't resist the tempura fried South Carolina quail.
For updates on the
'Chef's Table'
air date and preparations for the James Beard dinner (not to mention regular menu additions and band listings), follow
@TerraSC
on Twitter or call
803-791-3443
.
Written by guest blogger, Jacque Riley, Founder and CEO of Riley Communications, LLC.
Contact:
803-227-0914 or
jriley@rileycommunications.com