Texts are fresh at the new South Carolina State Farmers Market
Tuesday, March 15, 2011 10:38 PM by Mandi Engram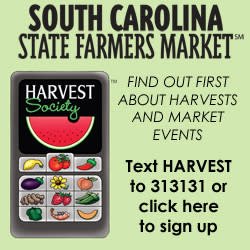 Want to be the first to know when South Carolina tomatoes are off the vine and headed to market? The new South Carolina State Farmers Market has their green thumbs text-ready! They'll give you a heads-up when the okra's about to strut and the sweet corn's ready to shuck -- or let you know when it's time to get a jump on catfish, crawdads and crab claws. They'll even help you stay on top of events at the new demonstration kitchen.

Text HARVEST to 313131 to receive text messages from the Harvest Society. If you prefer to receive email updates, fill out the online form.

Harvest Society reports will kick off April 14, 2011 at the Spring Plant and Flower Festival.

Personally, I want to know when I can get some green peanuts to make some fresh, boiled ones! What South Carolina produce has you anxiously awaiting that text?