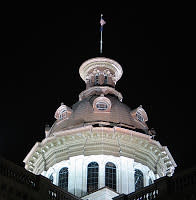 Columbia's Premier Christmas tree lighting affair
Governor Mark Sanford and Columbia Mayor Steve Benjamin will kick-off the holiday season with the 44
th
Annual State Capitol
Carolighting
Christmas tree lighting ceremony on the north steps of the State Capitol, 1101
Gervais
Street, at 6:00 p.m. on Sunday, November 28.
The
Carolighting
Children's Choir, comprised of students in the Midlands, will perform "Fear Not Good Shepherds" and "Song of the Crib". The
Carolighting
Community Choir, consisting of
USC
students and singers from churches in the Midlands, will perform "Carol of the Bells", "Caroling Caroling" and the "Hallelujah Chorus".
"We are excited to have two very talented choirs performing at this year's tree lighting," commented Mayor Benjamin. "It's always a delight to have our children center stage to display their incredible skills and abilities for the enjoyment of the community."
The free event will feature more live entertainment from Angel Morey of America's Got Talent, The United States Army 282
nd
Brass Band Quintet, the Benedict College Gospel Choir, the Together For Him trio, and
Pleneros
del
Sur
band.
The 34-foot white fir Christmas tree from Maple Hills Farm in Pennsylvania is decorated with 35,000 multi-colored lights and more than 900 ornaments. A 3-foot star tops the tree surrounded by red and green presents. The tree and its trimmings are a gift to the people of South Carolina from the women of the Columbia Garden Club and the Garden Club of South Carolina.
"I am looking forward to this wonderful event and I am honored to welcome residents and visitors from across the state to celebrate the start of this holiday season here in the Capital City," said Mayor Steve Benjamin.