#TravelTuesday Trivia: 1963 in Columbia SC
Tuesday, February 26, 2013 3:00 PM by Renée Chow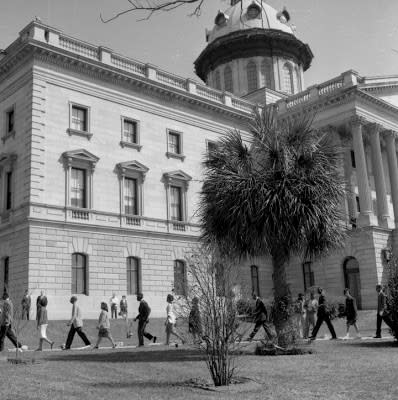 Students march on the South Carolina State House grounds - March 2, 1961
 [Image courtesy of Cecil Williams]
Throughout this year, 
Columbia, SC
 will commemorate the 
50th anniversary of 1963
 ' the >Columbia SC 63 project.
This week marks two important dates in Columbia, SC's civil rights history. On March 2, 1961, African American high school and college students from across South Carolina peacefully marched to the
South Carolina State House
 in support of civil rights. There, more than 150 participants were arrested for "disturbing the peace." Two years later on February 25, 1963, the U.S. Supreme Court ruled in
Edwards v. South Carolina
 that the students First Amendment rights were violated by the arrests. The courageous actions of these students legalized nonviolent protests on public grounds and sparked the movement for justice nationwide.
Travel Tuesday Trivia: 
The students began their civil rights march at a historic church in downtown Columbia, SC.
Do you know which church?
Be the first to guess correctly with a comment below and get a 'famously hot' t-shirt.