#TravelTuesday Trivia: Guaranteed Worst (and Delicious!) Popcorn
Tuesday, January 22, 2013 2:45 PM by Meredith Almond
We like a good snack in Columbia, SC, and luckily, we have Cromer's P-Nuts here to serve us some of their signature "Guaranteed Worst" popcorn.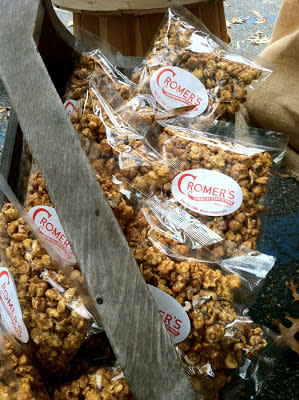 "...Guaranteed worst? Why would you want to eat it, then?"

I know what you're thinking, but the tagline has a lot to do with the history of Cromer's. In the 1930's when Mr. Cromer's business was just taking off, the company focused solely on making peanuts. Another local peanut vendor decided he could compete by claiming to be the "Best in Town" while also saying Cromer had "the worst peanuts in the market." Mr. Cromer, infuriated, wrote "Guaranteed Worst in Town" on a cardboard sign, stuck it on his produce stand and business boomed. Cromer's P-Nuts has been the "worst in town" ever since!

Cromer's serves up peanuts, popcorn (of all flavors and colors!), cotton candy, candy classics, candy apples and more. Be sure to visit them for a 'famously hot' treat!

Cromer's P-Nuts
3700 Huger Street
Columbia, SC 29201
Monday-Friday: 6:30am - 6:00pm
Saturday: 9:00am - 5:00pm


TRAVEL TUESDAY TRIVIA: 

How many years has Cromer's been serving the "Guaranteed Worst" peanuts & popcorn in town?