#TravelTuesday Trivia: Where is Logan the Leprechaun?
Tuesday, March 5, 2013 3:00 PM by Renée Chow
The 2013 St. Pat's in Five Points Festival is March 16 in Columbia, SC, and we're ready to enjoy another 'surprisingly Irish' weekend here at one the largest St. Patrick's Day festivals in the Southeast.

For those who can't wait until next Saturday to start celebrating St. Patrick's Day, why not search for the festival's mascot, Logan the Leprechaun, throughout the Five Points district? He's hiding in six locations.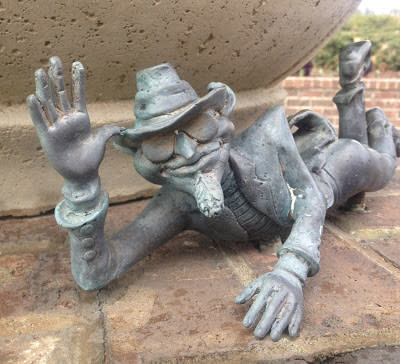 Travel Tuesday Trivia
: Can you name three locations where
Logan the Leprechaun
 hides in Five Points?
Be the first to leave a comment with three correct answers and win a 'famously hot' t-shirt!
If you need a little hint, here are clues to help you in your hunt for Logan: 
Leprechauns are thirsty, fans of the drink
But their habits are unusual, folks often think
They remove their shoes, curled toes on the stoop
And enter the pub for their Guinness and soup
For 30 years, a clean man has rested,
Through summer storms and festivals, his endurance has been tested
Alone for so long, he rejoices at last
A new friend has joined him, his loneliness now in the past.
Logan's feet have grown weary; he has travelled so far,
From bathtubs on roofs and stops at the bar
A new pair of footwear shall ease his pain
The old pair of slippers has been put out in the rain
With his name in lights, Logan is the star
As he peeks over the wall at this infamous bar
Over an archway that leads to a door that's been torn
He watches the nighttime turn into the morn
Logan's on stage, he's coming alive
He swings his guitar as the clock strikes 5
A fan of song, he secures the best seat on the brick
As he cheers and sings along to the band's first pick
Cool waters now splash Logan's tired face
He's finally found a perfect hiding place
Annual flowers will bloom over his sneaky smile
As visitors relax and sit for a while 
Figure them all out? You can meet Logan the Leprechaun at
St. Pat's in Five Points
where there will be plenty to enjoy.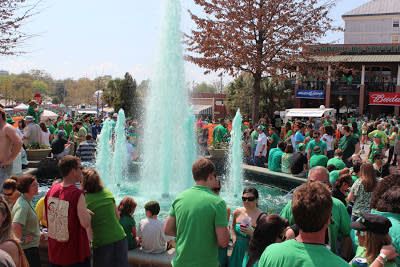 The 2013 St. Pat's in Five Points festival includes the 
11th Annual St. Pat's in Five Points Get to the Green
, the annual parade and a Children's  Carnival, and more than 20 musical acts on four stages, featuring headliners
Chevelle
,
Arrested Development
,
Josh Thompson
and
Rival Brothers
. Take a look at last year's festival on 
Flickr
, and
plan ahead with our guide to 
St. Pat's in Five Points
.