Valentine's Day 2014 in The New Romantic Hot Spot
Saturday, February 8, 2014 2:43 AM by Mary Elkin
Southern hospitality comes naturally in Columbia, SC. So when the ultimate day of love rolls around, you can be sure we'll help make your romantic evening or weekend unforgettable. From a quiet dinner and a show to an adventurous excursion, the Columbia region has a wide range of things to do for a romantic getaway. Take a look at our suggestions for this year's Valentine's Day, but be sure to check out our calendar of events for even more possibilities in The New Romantic Hot Spot!

Be sure to browse Valentine's Day specials and offers from Columbia Metropolitan CVB's partner hotels, restaurants and more.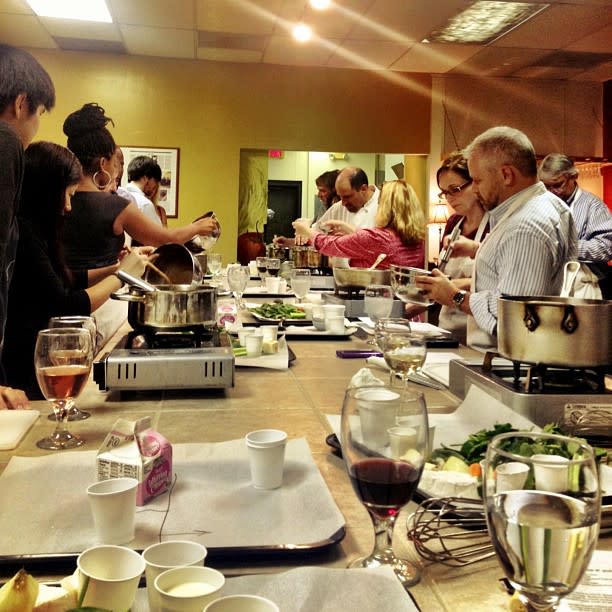 Let's Cook Culinary Studio

The Food
Valentine's Day and dining go hand in hand, and you'll want to start your date on a good note with Columbia, SC's culinary options. Try one of the Valentine's Day menus or specials below:
Al's UpStairs Italian Restaurant February 13-15 $45; $55 with alcohol per person
Le Peep February 14 $19.99 per couple
@116 Espresso and Wine Bar February 14 $40 per person
Tender Love & Hookah at The Hookah Spot February 14 8pm $60
Mega Heart-shaped Cupcake at Cupcake $19.95
Charleston Cooks: Columbia Couples Night: Valentine's Dinner at Charleston Cooks February 13-15 $175 per couple
Charleston Cooks! Columbia: Healthy Valentine's Day with Jamie Scott Fitness at Charleston Cooks February 15 $60
Valentine's Demonstration Dinner at Let's Cook Culinary Studio February 14 6:30pm $90

These are just some of the special menus and offers we found, but be sure to search through our listings of Columbia, SC restaurants to find the perfect Valentine's Day dinner.

The Movie
Dinner and a movie is the classic way to romance your sweetie! Snuggle up with some popcorn and your valentine with one of these romantic flicks:
Love Jones at Nickelodeon Theatre February 14 10:30pm $7
Singin' in the Rain on Valentine's Day at Harbison Theatre at Midlands Technical College February 14 7pm Dessert, 8pm Film $15

The Show
Take in a show, from a saucy burlesque production to a fun dinner theater.
Henderson Bros Burlesque at Trustus Theatre February 13-15 10pm $30 reserved seating, $20 standing
A Marriage Can Be Murder Dinner Theatre at Clarion Hotel Downtown February 14 6pm $35 per person
A Marriage Can Be Murder Dinner Theatre at Columbia Dinner Theatre February 16 4:45pm $27-$30
Tyler Perry's "Hell Hath No Fury Like A Woman Scorned" at Township Auditorium February 14 8pm; February 15 3pm & 8pm $49 - $53
USC Dance Company presents "Breaking the Barrier" at Drayton Hall Theatre February 13-15 7:30pm $12 - $18

The Concert
Take in the moment and relax with your sweetie while listening to some sweet tunes from one of the following concerts and performances. Maybe even show off your dance moves?
2014 Guitar Gala: Love, Romance and Tango at 300 Senate February 15 5:30pm $45
Valentine's Dance Concert with Heart N' Soul at Lourie Center February 14 7pm - 10:30pm $15 in advance; $20 at door
Piano Concert with Marina Lomazov at Newberry Opera House Friday 14 8pm $25
Arlo Guthrie: A Tribute to Woody Guthrie at Newberry Opera House February 15 8pm $45
Lake Murray Symphony Orchestra presents Valentines from France at Harbison Theatre at Midlands Technical College February 16 3:30pm Free
The Adventure
Step out of the norm and explore Columbia, SC together! You can make your Valentine's Day weekend truly unique with some of the Columbia region's outdoor things to do.
Zip the Zoo or Zoom the River at Riverbanks Zoo & Garden Daily Zoo Zip $45; River Zip $55; Combo Zip $80
Half-Moon Outfitters Make My Day 12k/5k at Harbison State Forest February 15 9am $25+
Valentine's Day Canoe Trip with "Get Your Gear On" February 14-15 $40
Congaree River Trip with Adventure Carolina February 15 2pm $30
Family on Safari: Valentine's Edition at Riverbanks Zoo & Garden February 15 6pm - 9am the next day $40, pre-registration required
Tree Trek at Congaree National Park February 15 2pm Free
Ice Skating at Plex Indoor Sports & Ice Irmo February 15 Noon - 4pm $12
Miniature Golf at Frankie's Fun Park February 14-15 10am - Midnight $7
The Art
Tap into your creative side with a painting class or admire art at one of Columbia, SC's galleries and art exhibitions.
Couple's Painting: Picasso Lovers at Studio Cellar February 14 6:30pm $36
Paint & Sip: Poppy at UnWine February 15 5pm $35
Japan and the Jazz Age: Unique Exhibition of Japanese Art Deco at Columbia Museum of Art February 14 11am - 5pm; February 15 10am - 5pm; February 16 Noon - 5pm $12 
Whipped Cream and Other Delights: remake/remodel at 701 Whaley Street February 14 11am - 5pm; February 15 9am - 5pm; February 16 1pm - 5pm Free