Vote Columbia SC for Best College Football Town and Tailgate
Saturday, September 8, 2012 11:26 AM by Sarah Katherine Shearin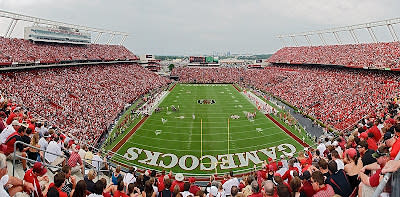 It's back, y'all! College football season is in full speed with South Carolina Gamecocks kicking off their first home game at Williams-Brice this weekend! Recently, Columbia SC has gotten a nod from Southern Living and USA TODAY Travel as a top destination for college football and tailgating, and now they're looking to you to find the best of the best.

We think the honor is well deserved for Columbia and the University of South Carolina. From garnet bow ties and LaRoque dresses to Cockabooses and a swaying stadium full of  'Sandstorming' football fans, it's apparent that this place it a hot spot on game days.

So now, USA TODAY and Southern Living need your vote. What is America's best college football town, and who should take the title for the South's Best Tailgate? Think the hometown of the South Carolina Gamecocks has what it takes? Cast your votes.

USA TODAY's Best College Football Town in America
USA TODAY asked college football aficionados,  from Erin Andrews to Adam Kramer, for their favorite college football towns in America. Columbia, SC made the cut and is among the top 15 college football towns. Now, USA TODAY needs your vote to find America's best college football town.





VOTE FOR AMERICA'S BEST COLLEGE FOOTBALL TOWN: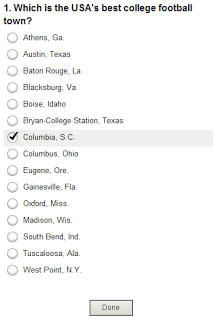 2. Tweet your vote:
@USATODAYtravel I vote #famouslyhot @columbiasc, home of @UofSC #Gamecocks, for #bestcftown!
3. Spread the word:
*Voting ends September 20, 2012.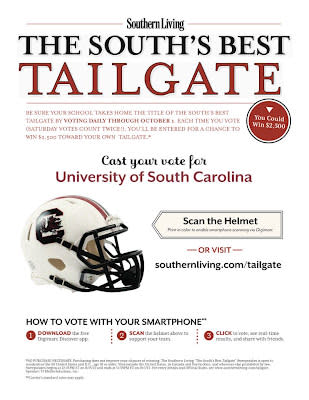 Southern Living's Best Tailgate of the South
Southern Living recently included the University of South Carolina as a 'traditionalist' in their contest for the South's Best Tailgate. From now until October 1, 2012, Southern Living wants you to vote for who you think throws the best pre-game party in the South. We know our hometown Gamecocks at the University of South Carolina deserve the title -- after all, we know tailgating in Columbia is famously hot.

VOTE FOR THE SOUTH'S BEST TAILGATE:
1. Visit southernliving.com/tailgate and cast your vote daily.
    - Find the University of South Carolina under the 'Traditionalist' category.
    - VOTE and enter your email address.
    - Repeat tomorrow!

2. Print the poster above and scan the helmet on your smart phone each day to vote for the University of South Carolina.

3. Spread the word:
Tweet, share on Facebook, and pin on Pinterest!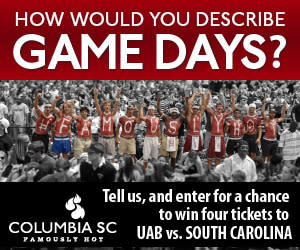 Love South Carolina game days and tailgating in Columbia?
Tell us about them. We're looking for the best description of the excitement and Southern >Submit your description for a chance to win four tickets to South Carolina vs. UAB next weekend at Williams-Brice.