Voting is Open for Columbia's 'Famously Hot Chef Showdown'
Friday, September 16, 2011 3:02 PM by Mandi Engram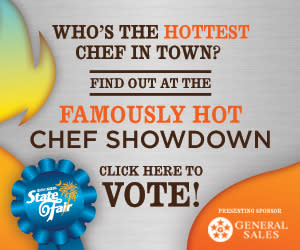 South Carolina State Fair, in partnership with General Sales, WIS TV, South Carolina Hospitality Association, the Greater Columbia Restaurant Association, the American Culinary Federation Midlands Chapter and the All Local Farmers Market invite the public to vote on their favorite Columbia area chefs for a chance to compete in the 'Famously Hot Chef Showdown' on October 18, 2011 on the WIS TV stage at the fair.

South Carolina State Fair has invited celebrity chef Walter Scheib, The American Chef and White House executive chef (1994-2005), to be the master of ceremonies and act as one of four judges who will crown Columbia's first 'Famously Hot' chef in this Iron Chef >Viva La Vista and SC State Fair.

Area restaurants and chefs competing in the voting process are:

1. Blue Marlin executive chef/general manager, Brian Dukes

2. Juniper chef/owner, Brandon Velie

3. Liberty Tap Room & Grill chef, Nathan Brick

4. Mint Julep Bistro & Lounge executive chef, Will Descy

5. Moe's Grapevine Italian Restaurant chef/owner, Moe Baddourah

6. MoMo's Bistro executive chef, Andrew White

7. Motor Supply Company Bistro executive chef, Tim Peters

8. Mr. Friendly's New Southern Cafe executive chef/wwner, Ricky Mollohan

9. Rosso Trattoria Italia chef/wwner, Kristian Niemi

10. Ruth's Chris Steakhouse executive chef, Paul Cernansky

11. Saki Tumi Grill & Sushi Bar executive chef, Larry Thompson

12. Sheraton Columbia Downtown Hotel executive chef, Neil Goodwin

13. Terra chef/owner, Mike Davis

14. Tombo Grille executive chef, Steven Blitch

15. Villa Tronco executive chef, Nate Skipper

16. Virtu Restaurant and Bar chef, Jeff T. Niemeyer

On October 3,  the top three chosen by the public will be announced by WIS TV and asked to participate in the 'Famously Hot Chef Showdown' on October 18. The public can vote online through the 'Favorite Picks' tab on the South Carolina State Fair Facebook page.

The 'Famously Hot Chef Showdown' is brought to you by South Carolina State Fair and is sponsored by General Sales. The event will be the first 'Iron Chef" >scstatefair.org or get updates on Facebook and Twitter.