Vulture Conservation Takes Flight at Riverbanks Zoo
Wednesday, August 31, 2011 7:30 AM by Mandi Engram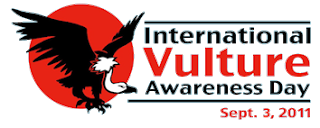 Riverbanks Zoo and Garden is among more than 90 organizations taking part in International Vulture Awareness Day on Saturday, September 3, 2011. From 10:00 am until 2:00 pm, guests are invited to participate in several interactive and educational activities highlighting vulture conservation and awareness. Visitors can measure up to a vulture's giant wing span, dissect a fake carcass in the Zoo's version of the game Operation, discover why bald is beautiful and its importance to these birds of prey, and even act out what it's like to be a vulture.

Other activities include Riverbanks' Wings of the South bird show at 1:30 pm followed by a keeper-guided feeding and vulture walk to various bird exhibits throughout the Zoo. There will also be several up-close animal encounters throughout the day. View general admission rates.

Note: Vultures face threats in many areas where they live, and some species are even in danger of becoming extinct. International Vulture Awareness Day is a coordinated effort to bring greater attention to the importance of vulture conservation around the world. To see a list of participating organizations in 2011, visit www.vultureday.org.