This weekend in Columbia, SC is a flurry of activity with festivals, shows, shopping, exhibits and more! Read through our 7 suggestions for things to do listed below and get swept up in the fun! Don't forget to also check out our calendar of events for even more information on all the exciting things going on in "The New Southern Hot Spot!"
fun festivals
The Columbia region is full of festive spirit this weekend as there are FIVE different festivals celebrating everything from Latin culture to the area's heritage to reggae music. So pick the one (or more!) that calls to you and let loose in the streets of Columbia, SC!
Main Street Latin Festival at 1400 Block of Main Street Friday 10:30 a.m. - Saturday 8 p.m.
36th Annual Jubilee: Festival of Heritage at Mann-Simons Site Saturday 1 - 7 p.m.; Free admission
FOLKFabulous at McKissick Museum Saturday 10 a.m. - 4 p.m.; Free admission
Freeway Music Festival at The Music Farm at Tin Roof Saturday 12 p.m.; $10
Electric Lake 2014: Reggaetronic at Spence Island on Lake Murray Sunday 12 p.m.
drink it all in
The craft beer craze continues this weekend as Saluda Shoals Park pairs an evening paddle with an ice cold pint and the much-anticipated Columbia Brew Bus makes its debut!
Saluda Paddle & Pint at Saluda Shoals Park Thursday 6 - 8 p.m.; $37
Unveiling of Columbia Brew Bus at Craft and Draft Friday 5 - 8 p.m.
@JesterJenn13 Can't wait to LOL on Thursday! pic.twitter.com/pF27MSCseA

— EdVenture (@EdVenture) August 18, 2014
edventure adventures
Along with its fun, interactive exhibits, the largest children's museum in the Southeast is also offering a couple special events this weekend! Tickle your funny bone at the adults-only comedy show, then see if you can stand the heat in the kitchen with some local firefighters!
EdVenture After Dark presents LOL at EdVenture Children's Museum Thursday 6:30 - 8:30 p.m.; $20
Forks & Flames, Cooking with Firefighters at EdVenture Children's Museum Saturday 10 a.m., 12 p.m. and 2 p.m.; $11.75
Blooming Butterflies at EdVenture Children's Museum Thursday - Saturday 9:30 a.m. - 4:30 p.m., Sunday 12:30 - 4:30 p.m.; $11.75
Dinosaurs: Land of Fire and Ice at EdVenture Children's Museum Thursday - Saturday 9:30 a.m. - 4:30 p.m., Sunday 12:30 - 4:30 p.m.; $11.75
it's show time
There's no business like show business and Columbia, SC gives you several chances this weekend to indulge in its splendor with both silver screen and stage productions.
Boyhood at Nickelodeon Theatre Thursday 2:30 p.m., 5:30 p.m. and 8:30 p.m.; $8 - $10
P.O.V. Film Series Screens "Only Lovers Left Alive" at Tapp's Art Center Thursday - Saturday 7 p.m.; $7
"Puss in Boots" at Columbia Marionette Theatre Saturday 11 a.m. and 3 p.m.; $5.75
a series of events
Take a peek into the Vista galleries and shops during extended hours, explore the South Carolina State House with free Saturday tours or sit back and relax to the sound of bluegrass with these classic Columbia events!
Vista Nights at Congaree Vista Thursday 5 - 8 p.m.; Free admission
South Carolina State House Tours at South Carolina State House Thursday - Saturday 9 a.m. - 4:30 p.m.; Free admission
The Haynes 4th Saturday Bluegrass Series at The Haynes Auditorium Saturday Jam Session: 4:30 - 6:30 p.m., Open Stage: 6:30 p.m., Bluegrass Shows: 7:15 p.m. and 8:15 p.m.; $7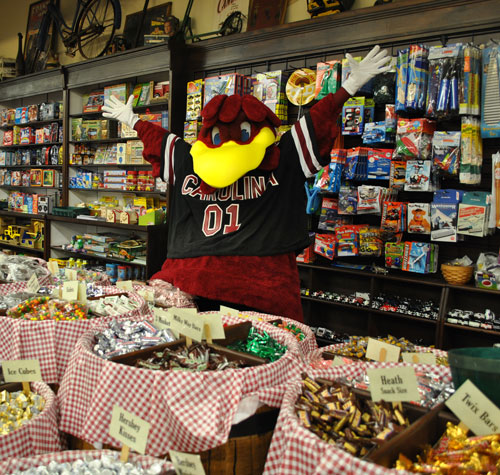 saturday shopping
The local farmers markets are still in full swing this weekend, offering seasonal produce and unique goods. Shoppers at Mast General Store on Saturday also have the extra opportunity to experience some local school spirit and snap a picture with Cocky, the university's vibrant mascot!
USC Mascot Cocky at Mast General Store Saturday 12 - 1 p.m.; Free admission
Soda City Market at 1500 Block of Main Street Saturday 9 a.m. - 1 p.m.; Free admission
Town of Lexington's Farmers Market at Lexington Square Park Saturday 9 a.m. - 12 p.m.; Free admission
art, animals and artifacts
The region's many museums and art galleries are home to a number of stunning exhibits showcasing everything from masterful works of art, creatures of the past and present and fascinating finds from all kinds of cultures throughout time. You won't want to miss out on the chance to feast your eyes on these truly wonderful collections!
Body of Work: Faces and Figures Exhibit at Gallery West Thursday - Saturday 11 a.m. - 7 p.m., Sunday 11 a.m. - 4 p.m.; Free admission
Chapman's Charleston, 1863 - 1864 at South Carolina State Museum Thursday - Saturday 10 a.m. - 5 p.m., Sunday 1 - 5 p.m.; $5 - $7
Dinosaurs: A Bite Out of Time at South Carolina State Museum Thursday - Saturday 10 a.m. - 5 p.m., Sunday 1 - 5 p.m.; $5 - $7
South Carolina Unearthed at South Carolina State Museum Thursday - Saturday 10 a.m. - 5 p.m., Sunday 1 - 5 p.m.; $5 - $7
The Art and Life of Addie Sims: A Look Into Her World at South Carolina State Museum Thursday - Saturday 10 a.m. - 5 p.m., Sunday 1 - 5 p.m.; $5 - $7
Animal Instinct: Paintings by Shelley Reed at Columbia Museum of Art Thursday and Friday 11 a.m. - 5 p.m., Saturday 10 a.m. - 5 p.m., Sunday 12 - 5 p.m.; $12
Cheer for the Home Team! Animal Mascots in the Collection at Columbia Museum of Art Thursday and Friday 11 a.m. - 5 p.m., Saturday 10 a.m. - 5 p.m., Sunday 12 - 5 p.m.; $12
Daryl Trivieri's Fantastic Animals: Selections from the Vogel Collection at Columbia Museum of Art Thursday and Friday 11 a.m. - 5 p.m., Saturday 10 a.m. - 5 p.m., Sunday 12 - 5 p.m.; $12
From Landrum to Leeds: Common Ceramics in 19-th Century Columbia at Robert Mills House & Gardens Thursday - Sunday 12 - 4 p.m.; $4 - $8
Prideful Possessions: A South Carolina Silver Sampler at Robert Mills House & Gardens Thursday - Saturday 10 a.m. - 4 p.m., Sunday 1 - 5 p.m.; $4 - $8
Traditions, Change, and Celebration: Native Artists of the Southeast at McKissick Museum Thursday and Friday 8:30 a.m. - 5 p.m., Saturday 11 a.m. - 3 p.m.; Free admission
Hidden Treasures: Rediscovering McKissick Museum's Natural History Collection at McKissick Museum Thursday and Friday 8:30 a.m. - 5 p.m., Saturday 11 a.m. - 3 p.m.; Free admission
Taking Root: The Summer Brothers and the History of Pomaria Nursery at McKissick Museum Thursday and Friday 8:30 a.m. - 5 p.m., Saturday 11 a.m. - 3 p.m.; Free admission