You're the one that I want, Columbia, SC! The capital city has what you're searching for to have a legendary Hallo-weekend. Check out our 7 suggestions of 
things to do
 listed below and browse our 
calendar of events
 for everything happening in 
"The BOO! Southern Hot Spot!"
Happy Game Day! Make plans to join our #tailgate presented by @CBCbreads NEXT Saturday in #Columbia. #USCvsTenn pic.twitter.com/SnwUe6W02t

— Southern Living (@Southern_Living) October 25, 2014
cheer on the gamecocks
Buffalo chicken meatball sliders and chicken bruschetta subs await at Southern Living's first-ever Tailgate Tour. Sample these scrumptious creations during the "Sandwich Smackdown," where Southern Living Senior Food Editor Julie Grimes will go head to head with Cobblestone Bread Company's Chef Nathan Lippy. When you've eaten your fill, head on into the "Cock Pit" to watch the Gamecocks battle the Volunteers.
USC Gamecocks Football vs. Tennessee at Williams-Brice Stadium Saturday 7:30 p.m.
Southern Living Tailgate Tour at South Carolina State Fairgrounds Saturday; free admission
catch a show
Goosebumps will cover your arms as you watch these spectacles featuring fangs, werewolves and psychos. This weekend, Count Dracula will continue his seductive reign of terror, beer-loving werewolves will howl at the moon and Stephen King's thriller will have you checking under your bed for murderous clowns.
Dracula: Ballet With A Bite at Koger Center for the Arts Thursday - Saturday; $15 - $42
Growl at the Moon at South Carolina State Museum Thursday 7 p.m. - 10 p.m.; $35 per person
P.O.V. Film Series Screens "Stephen King's IT" at Tapp's Art Center Thursday 6:30 p.m.; $5
SC Shakespeare Company's King Lear at Finlay Park Thursday - Sunday 7:30 p.m.; $10 adults; $5 military and kids
get scared
Venture into the darkness, if you dare! The shrieking of bats and blood-curdling cackles will haunt your nightmares for years to come. Chills are sure to creep up your spine as you enter these cobwebbed corridors of terror. If you're looking for an evening of horrifying haunts, you've come to the right place. Dun, dun, dun...
Dark Knights Terror Trail at 2076 Highway Church Rd Friday - Saturday 7 p.m.; Admission is $13 per attraction per person, $22 for two attractions and three attractions for $30
Hall of Horrors Haunted Attraction at 1153 Walter Price St Friday - Sunday 7:30 p.m.; $10
Deceased Farm's Madness Murder & Maize at Clinton Sease Farm and Corn Maze Thursday - Sunday; $13 - $35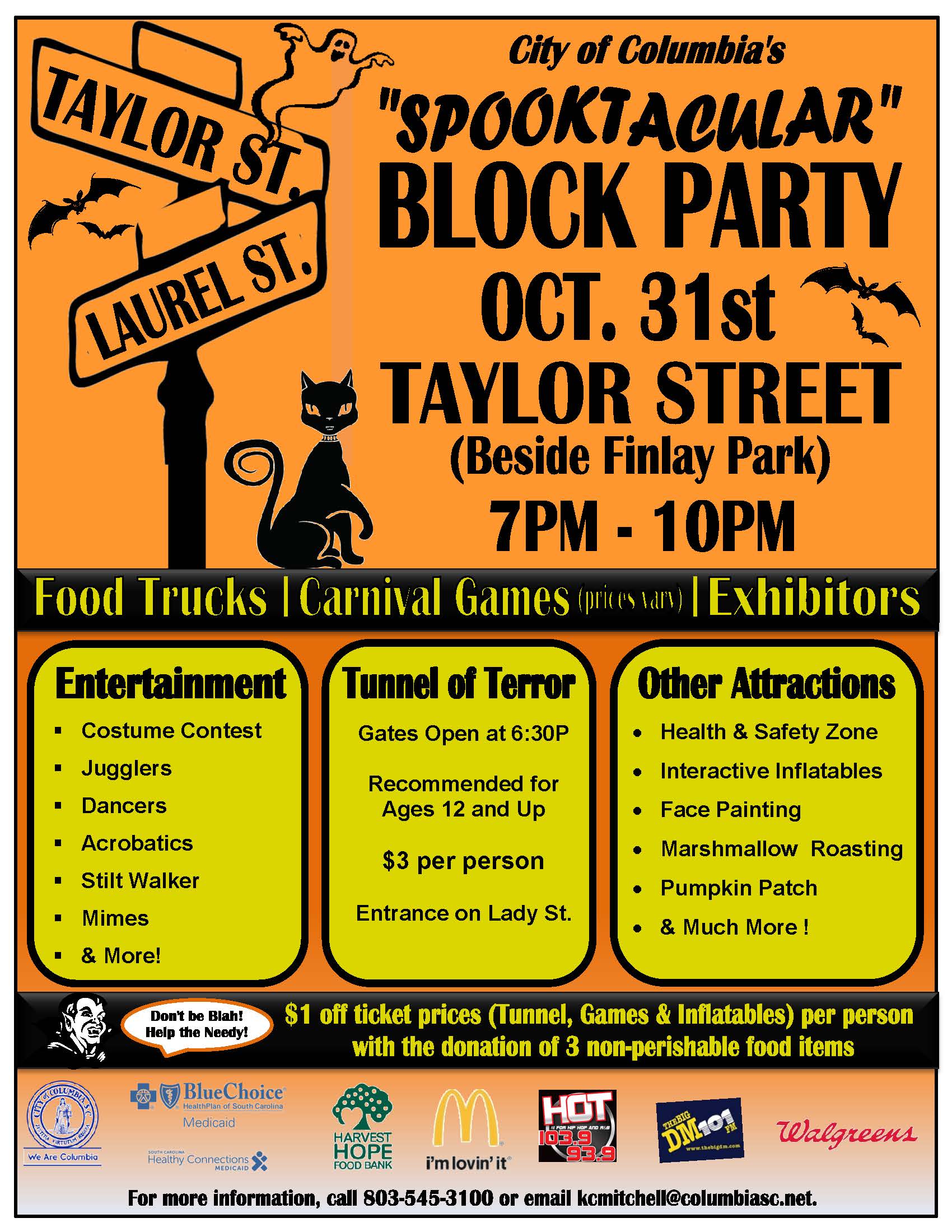 collect some candy
Get your sugar rush on with these events devoted to the stockpiling of sweets. With backdrops of beautiful mansions, historic sites and wild zoo animals, you're guaranteed evenings of unique Halloween fun.
City of Columbia Spooktacular Block Party at Taylor Street Friday 7 p.m. - 10 p.m.; Free admission
Trick or Treat with the Greeks at Greek Village Thursday 5 p.m. - 7 p.m.; Free admission
Trunk or Treat at Robert Mills House Thursday 6 p.m. - 7:30 p.m.; Free admission
Greenlawn Baptist Spooky Trail at Greenlawn Baptist Church Friday 6:30 p.m. - 8 p.m.; free admission
Boo at the Zoo at Riverbanks Zoo & Garden Thursday - Sunday 6 p.m. - 9 p.m.; $7 Riverbanks members, $9 general public, children younger than 2 free
get some fresh air
It's still famously hot in Columbia, so get outside and enjoy the beautiful weather while it lasts. Jog through the trees, explore a corn maze or dance to the "Monster Mash" at a party by the river. Just make sure you wear your costume!
Halloween Hustle Spooky Fun Run at Saluda Shoals Park Thursday 7:30 p.m. - 9:30 p.m.; $35 per person
2014 Corn Maze - Down on the Farm at Clinton Sease Farm and Corn Maze Friday 6 p.m. - 11 p.m., Saturday 10 a.m. - 11 p.m., Sunday 2 p.m. - 7 p.m.; $10, 2 & under free admission
Halloween on the River at Stone River Friday 5:30 p.m. - 7:30 p.m.; free admission
"@EGibbes: There was a packed house today for @SodaCitySC #Oktoberfest. #supportlocal pic.twitter.com/XN10hyfpHx" thanks for coming out!

— SodaCity (@SodaCitySC) October 25, 2014
pick up some spooky supplies
You can't have a great Halloween without all of the fixin's: pumpkins, hot apple cider, orange decorations and creepy crafts for the perfect haunted house. Stop by these local attractions to grab all that you need to keep the trick-or-treaters on their toes.
Scarecrows in the Garden Exhibit & Early Adventures Pumpkin Patch at Robert Mills House & Gardens Thursday - Saturday 10 a.m. - 4 p.m., Sunday 1 p.m. - 5 p.m.; free admission
Soda City Market at 1500 Block of Main Street Saturday 9 a.m. - 1 p.m.; free admission


learn something new
If you've overloaded on the Halloween fun and need a break from the spooky madness, we've got you covered! Did you know that there are 8,240 species of reptiles in the world? Or, that Norman Rockwell used staged photographs to make his popular covers of the Saturday Evening Post? Columbia is filled with little tidbits of useful knowledge, if you know where to look!
Repticon Columbia Reptile & Exotic Animal Show at Jamil Shrine Center Saturday - Sunday 10 a.m. - 4 p.m.; Adults - $10, Children (5-12) - $5, 4 & under - Free admission
Vladan: Unconventional Venus at HoFP Gallery Thursday - Friday 9 a.m. - 5:30 p.m., Satuday 10 a.m. - 5 p.m.; free admission
Norman Rockwell: Behind the Camera at Columbia Museum of Art Friday 11 a.m. - 5 p.m., Saturday 10 a.m. - 5 p.m. & Sunday noon - 5 p.m.; $12
State Museum Garage Sale at South Carolina State Museum Saturday 9 a.m. - noon & a variety of on-going exhibits Thursday - Saturday 10 a.m. - 5 p.m., Sunday 1 - 5 p.m.; $5 - $7
For more things to do in Columbia, SC browse our calendar of events and listings of attractions, outdoor things to do, restaurants and more. Book your hotel room and attractions tickets at columbiacvb.com/hotels/.