Summer officially starts Friday, beginning over 90 days of fun events, time spent out in the sun, vacations and more. To kick off the summer season, here are 8 'famously hot' things to do in
Columbia, SC
this weekend. For a full list of events, view our 
calendar of events
. 

Go to the theatre
It's a theatre-filled weekend with Murder Ahoy!, "The Comedia Rapunzel", Chapin Community Theatre Presents "Mama Won't Fly", Stage 5 Theatre Presents Shakespeare's "Macbeth", and "Kevin Bush's Off the Top of My Head." From comedy to tragedy or from mystery to the cabaret, Columbia, SC's theatres offer whatever theatrical experience you'd like to have this weekend.
Performances this weekend: 
Ain't Misbehavin' at 
Trustus Theatre
Thursday - Saturday 8 pm
;
Kevin Bush's Off the Top of My Head at 
Trustus Theatre
Friday
11:15 pm
, 
Sunday 3 pm
;
Chapin Community Theatre Presents "Mama Won't Fly" at 
Harbison Theatre at Midlands Technical College
Thursday - Saturday 8 pm
,
Sunday 3 pm
;
Murder Ahoy! at 
Fine Arts Center of Forest Acres
Friday and Saturday 7 pm
;
The Comedia Rapunzel at 
Columbia Children's Theatre
Friday 7 pm
,
Saturday 10:30 am & 2 pm
; "Macbeth" at
Stage 5 Theatre
Friday and Saturday 8 pm
,
Sunday 3 pm
.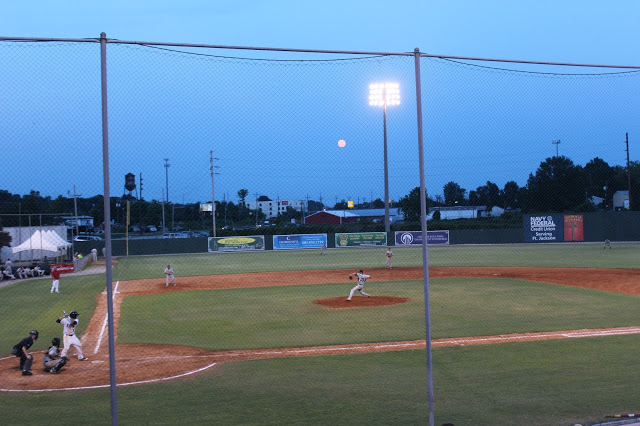 Take 'em out to the ball game
It's Crafty Beer Night and SC National Guard Appreciation Night at Capital City Stadium this Friday, as the Columbia Blowfish battle the Asheboro Copperheads. Don't miss the game, the beer and the fireworks! Admission $6.00-$7.00.
Cruise Lake Murray to see the purple martins
Friday's the first day of summer! What better way to celebrate than by welcoming a million purple martins to Columbia, SC? Sail on the Spirit of Lake Murray, watch the purple martins fly to Bomb Island and enjoy heavy hors d'oeuvres. $54 per person.

Catch a flick under the stars
Grab your blankets and lawn chairs and watch The Three Stooges at Riverfront Park or Oz: The Great and Powerful at Gibson Road Sports Complex (with optional camping out after the movie). Or take a trip to the Monetta Drive-In/The Big Mo for a classic drive-in movie.
Outdoor movies this weekend: Friday Nights Riverfront Park: The Three Stooges at Riverfront Park Friday 8 pm; Movie in the Park & Campout at Gibson Road Soccer Complex Friday 7 pm - Saturday 9 am


Strum up a good weekend with a guitar festival
The Southern Guitar Festival at Columbia College is a three-day festival featuring a competition, master workshop sessions and concerts from world-renowned guitarists like Artyom Dervoed, Rovshan Mamedkuliev and the Maharajah Flamenco Trio. You can find more information and purchase concert tickets on the Southern Guitar Festival and Competition's website. Concert tickets are $15-$20.

Image courtesy of South Carolina State Museum
Visit King Tut
The blockbuster exhibit, Tutankhamun: Return of the King returns to South Carolina State Museum after its debut ten years ago. Featuring 124 reproductions of "King Tut's" treasures, the exhibit will showcase the wonder and mystery of ancient Egypt found in King Tut's tomb, one of the greatest archaeological finds in history. Tickets $5-$7 in addition to general admission.
Wish you were Irish
Celebrate the Irish arts with Irish Heritage Weekend, including Irish music concerts, dance, workshops and sessions. Featured artists include Pat O'Connor from County Clare, Eoghan O'Sullivan from Cork, singer Sean-nós, Mai Hernon from Sligo, Myron Bretholz and Alex Reidinger. Free admission. Irish Heritage Weekend also includes Friday and Sunday events at various locations. Find a full schedule of events on the SC Irish Arts Weekend website. 

Irish Heritage Weekend at Columbia Museum of Art Saturday 10 am - 5pm
Take in a classic movie
The Nick (Nickelodeon Theatre) continues its National Treasures series this weekend with the groundbreaking 1960s film on race relations, Guess Who's Coming to Dinner. Wealthy and "progressive" Californians, played by famous duo Spencer Tracy and Katharine Hepburn, are surprised when their daughter (Katharine Houghton) introduces them to her African-American fiancé (Sidney Poitier). $8 per ticket.
National Treasures: Guess Who's Coming to Dinner 
at 
Nickelodeon Theatre Saturday 12:30; Sunday 3:00