Whether you're searching for a night of massive machines or an evening of refined art, you'll find it in Columbia, SC. This weekend is full of big names and bigger entertainment so don't miss out on any of these top-notch weekend events in The New Southern Hot Spot.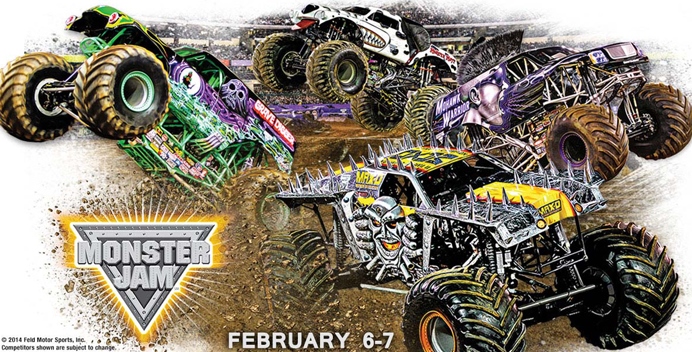 Photo from the Colonial Life Arena
The New Artistic Hot Spot
Art, drink and be happy! Enjoy beer tastings, challenge your friends in a game of live chess, craft some snarky valentines and embark on a scavenger hunt through the galleries at Arts and Draughts. Then, catch one of the most notorious Slasher films of the 80s, My Bloody Valentine at South Carolina's only art theatre, The Nick. Finally, dress to the nines for the Black Jack Ball, the hottest soiree at the coolest place in town.
The New Kid-Friendly Hot Spot
Vrrom, vrroom... the biggest performers on four wheels are back! Monster Jam is full of awe-inspiring ten-thousand-pound machines that will bring you to the edge of your seat. Race through downtown Columbia during the MGC Long Run. Pick your speed: 15k, 5k or a Kids' Fun Run then celebrate your accomplishment with a party on Main Street. Take the whole family on a stroll through history with the Columbia Time Machine, embark on a treasure hunt for the best deals at the one-day rummage sale, Clean Sweep or let the good times roll at the Mardi Gras Fun Fest. Are your children fans of all things scaly and green? Don't forget about the popular reptile and exotic animal show, Repticon. 
Check out our daily guide below. For more things to do around Columbia, SC, visit our calendar of events!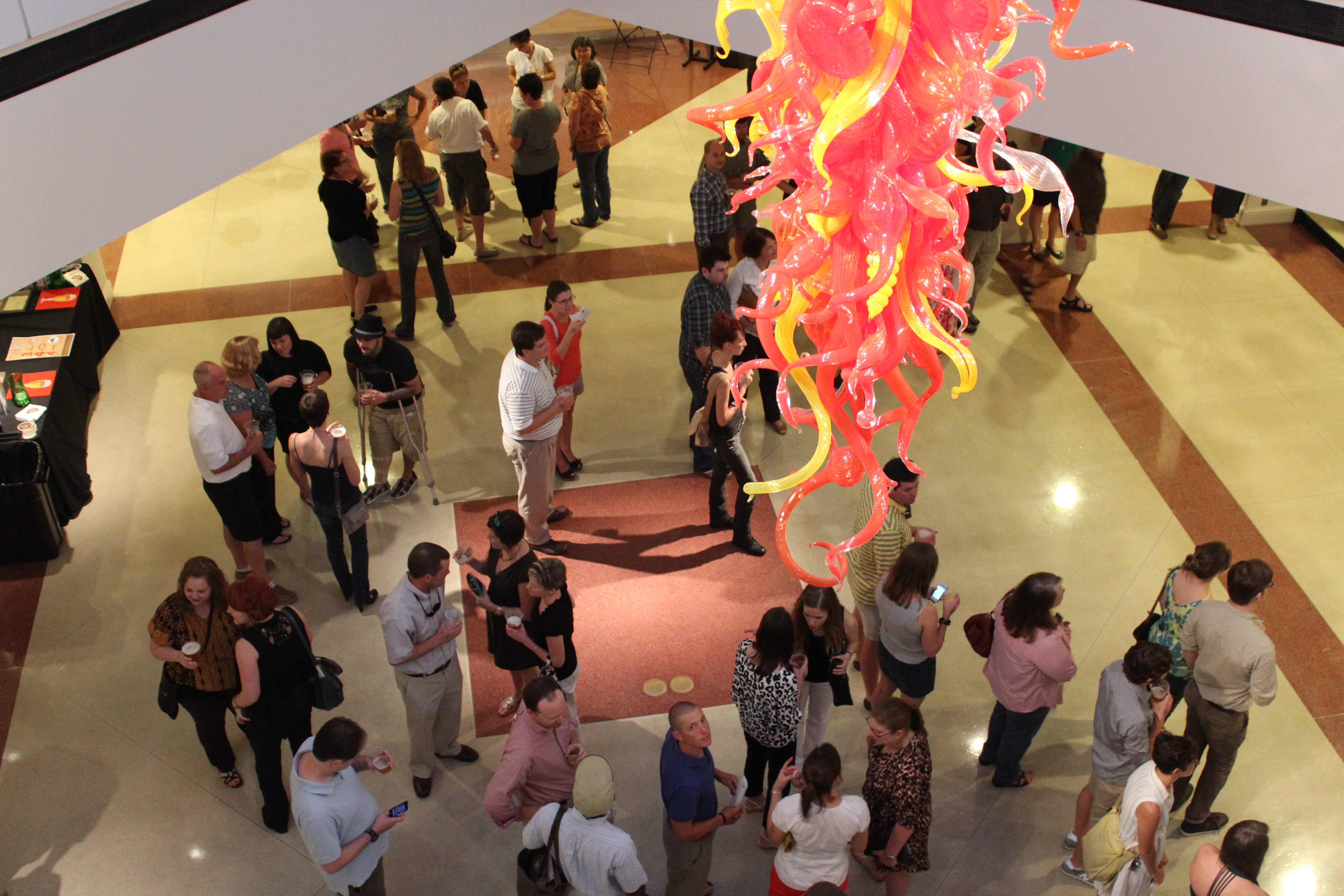 FRIDAY, FEBRUARY 6
Arts & Draughts: Art, Drink and Be Happy! at Columbia Museum of Art 7 p.m. - 11 p.m.; $8 / $5 members
Monster Jam 2015 at Colonial Life Arena 2 p.m. & 7:30 p.m.; $42 (VIP), $32 (Gold Circle), $27, $22. Kids 2-12 are $7 in the $27 and $22 price levels
Kathleen Madigan: Madigan Again at Harbison Theatre at Midlands Technical College 7:30 p.m.; $28
African-American Genealogy Jamboree Road Show at Allen University 9 a.m. - 6 p.m.
My Bloody Valentine at Nickelodeon Theatre 11 p.m.; $10
SATURDAY, FEBRUARY 7
Monster Jam 2015 at Colonial Life Arena 7:30 p.m.; $42 (VIP), $32 (Gold Circle), $27, $22. Kids 2-12 are $7 in the $27 and $22 price levels
Nephew Tommy's "I Got People Inside My Head" Comedy Tour at Township Auditorium 7:30 p.m.; $51 seats are reserved
Columbia Time Machine: Civil War CoinTrail Kick-Off at Cayce Tennis and Fitness Center at Otarre Pointe 11 a.m. - 12:30 p.m.; free admission
MGC Long Run 15K, 5K on Main and Gervais Streets 8:15 a.m.
Our Story Matters: Columbia's Civil Rights History at South Carolina State House 11 a.m. - noon; Free, but registration is required
Repticon Columbia Reptile & Exotic Animal Show at Jamil Temple 10 a.m. - 5 p.m. (VIP Entry at 9 a.m.); Adults - $10, Children (5-12) - $5, Under 5 - Free
The Contemporaries 2015 Gala: Black Jack Ball at Columbia Museum of Art 7:30 p.m. - 11:30 p.m.; 55 / $100 for Contemporaries members and $75 / $135 for non-members
Junior League of Columbia's Clean Sweep Sale at Cantey Building at SC State Fairgrounds 8 a.m. - 1 p.m.; $3 per person, Parking $2 per car, Children under 12 are admitted for free
Mardi Gras Fun Fest at St. Timothys Episcopal Church 6 p.m. - 9 p.m.; $10
Soda City Market at 1400 Block of Main Street 9 a.m. - 1 p.m.; Free admission
Tours at South Carolina State House 9 a.m. - 4:30 p.m.; Free admission
"Puss in Boots" at Columbia Marionette Theatre 11 a.m. and 3 p.m.; $5.75

SUNDAY, FEBRUARY 8
Repticon Columbia Reptile & Exotic Animal Show at Jamil Temple 10 a.m. - 4 p.m.; Adults - $10, Children (5-12) - $5, Under 5 - Free

ALL WEEKEND
And Still I Rise: Celebration of African-American Artists at Various Locations Thursday - Saturday; Some events are free, but require tickets
"Disney's Winnie the Pooh Kids" at Columbia Children's Theatre Friday 7 p.m., Saturday 10:30 a.m., 2 p.m. & 7 p.m. and Sunday 3 p.m.; $10
In the Red and Brown Water at Trustus Theatre Thursday - Saturday 8 p.m. & Sunday 3 p.m.; Adult $22, Senior $20, Military $20 & Student $15
"Father and Son: The Legacy of Randy and Lyon Hill" at Gallery West Thursday - Saturday 11a.m. - 7 p.m. & Sunday 11 a.m. - 4 p.m.; free admission
Impressions of Chimneyville: Columbia's Civil War Destruction at The Gallery at City Hall Friday - Sunday 8:30 a.m. - 5 p.m.; free admission
Frank Poor: Displaced at 701 Center for Contemporary Art Thursday - Friday 11 a.m. - 5 p.m., Saturday 9 a.m. - 5 p.m. & Sunday 1 p.m. - 5 p.m.; free admission
Snowville at EdVenture Children's Museum Thursday - Saturday 9 a.m. - 5 p.m., Sunday 12 - 5 p.m.; $10.50 - $11.50
Paths of Destruction: Sherman's Final Campaign at South Carolina Confederate Relic Room and Military Museum Thursday - Saturday 10 a.m. - 5 p.m. & First Sunday 1 - 5 p.m.; $5 general, $4 for military and seniors & $2 for children under 12
From Landrum to Leeds: Common Ceramics in 19th-Century Columbia at Robert Mills House & Gardens Thursday - Sunday 12 - 4 p.m.; $4 - $8
Prideful Possessions: A South Carolina Silver Sampler at Robert Mills House & Gardens Thursday - Saturday 10 a.m. - 4 p.m., Sunday 1 - 5 p.m.; $4 - $8
Traditions, Change, and Celebration: Native Artists of the Southeast at McKissick Museum Thursday and Friday 8:30 a.m. - 5 p.m., Saturday 11 a.m. - 3 p.m.; Free admission
Modern and Contemporary Art from the Collection at Columbia Museum of Art Thursday - Friday 11 a.m. - 5 p.m., Saturday 10 a.m. - 5 p.m. & Sunday noon - 5 p.m.; $12
South Carolina State Museum has a variety of ongoing exhibits open Thursday and Friday 10 a.m. - 5 p.m., Saturday 10 a.m. - 6 p.m., Sunday 12 - 5 p.m.; $5 - $7