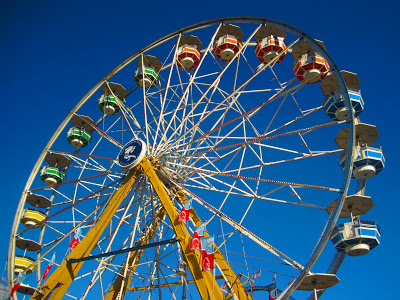 What's happening this weekend in Columbia, SC?
Simply put: a lot.
ALL WEEKENDSouth Carolina State Fair
The
South Carolina State Fair
is still in town, but this weekend is your last chance to catch it before it leaves town! It's been a 'famously hot' couple of weeks at the fairgrounds, and there's no way we could let you come and go without recommending a ride on the Swing Tower or Ferris Wheel, and an elephant ear with a side of Fiske Fries. Plus, the Newboys, Doobie Brothers and Jake Owen close out the concert series at the fair.
Read more and get the full concert lineup on our
South Carolina State Fair blog
Friday 10:00 am - 10:00 pm, Saturday 9:00 am - 10:00 pm
Riverbanks Zoo and Garden
's popular Halloween spook-tacular, Boo at the Zoo, invites kids 12 and under to wear costumes for a spook-fest complete with Frankenstein's Foam Zone, an eeky freaky DJ dance party and a trick-or-treat trail with candy and much more. This family-friendly festival runs for 12 nights leading up to Halloween.
$8 admission, $6 for members
6:00 - 9:00 pm
Take a stroll through our historic Hampton-Preston grounds and garden to view dozens of uniquely-crafted scarecrows. The exhibit showcases ghoulish, historical, and colorful scarecrows for all to enjoy. Find "Sneaky Steve" who is hiding somewhere on the grounds, but moves to a new location each week, enjoy a scavenger hunt and select your favorite scarecrow. Free admission.
Saturday 10:00 am - 4:00 pm, Sunday 1:00 pm - 5:00 pm
Reservations can be made by calling 803-256-6687 or by visiting Opentable.com.
FRIDAY, OCTOBER 19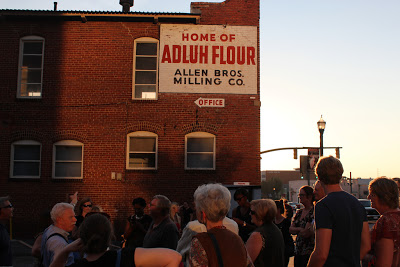 Happy Hour History Tour
of the Vista with Historic Columbia Foundation
Each Friday in October, enjoy a guided tour of the Congaree Vista and learn about its history and with a cocktail as you stop for happy hour specials along the way.
Get a sneak peek into the tour and view our Happy Hour History Tour on
Flickr
. Reservations requested.
5:30 pmFall Concerts Series
at the
Village at Sandhill
Enjoy live music, shopping and dining at the Village at Sandhill's weekly outdoor concert series. This week's headliner is Boomers, a top-40, classic rock/variety band.
Free admission.7:00 pmPride & Prejudice
at
Finlay Park
All of the wit and romance of Jane Austen's classic 1813 novel come to life in this refreshingly fast-paced and engaging new adaptation. Along with swooning romance, the play deals with its accompanying obstacles - family baggage, social class and money matters with delicious wit and surprisingly clear-eyed observations.
Free admission.7:30 pm, Friday and Saturday
Dr. Jekyll and Mr. Hyde
by Chapin Community Theatre at
Midlands Tech Theatre
Get in the Halloween spirit with a new, innovative interpretation of Robert Louis Stevenson's classic tale of a man meeting his dark side features a small ensemble of actors, with most cast members having a turn at playing the villain himself.
Purchase tickets from
Chapin Community Theatre
.
3:00 and 8:00 pm, Friday and SaturdaySATURDAY, OCTOBER 20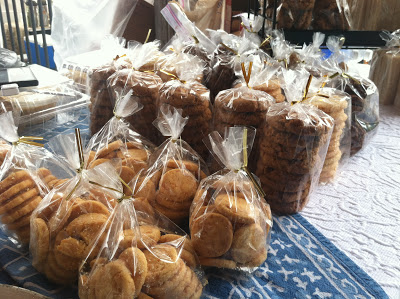 Soda City Market
on
Main Street
All Local Farmers Market has moved to Main Street! In its second week, the market still offers the local Certified South Carolina produce and products, just in a new location -- a first for Main Street in more than 60 years.
Free admission.8:00 am - noon

Palmetto Outdoor Presents Halloween History Tour
Take a historical adventure with the entire family along the Congaree River Bridge, Elmwood Cemetery, New Brookland, and hear ghost stories from the region.
Call 803.360.4697 for more information.4:00 - 6:00 pm, Saturday and Sunday
Columbia Marionette Theatre presents "Hansel and Gretel"
This unique adaptation of the classic Grimms fairy tale his based on a look inspired by early animation, with tall, gangly black and white puppets reminiscent of early cartoons. The puppets, coupled with projected computer animation, appear to be moving through a deep and dark, dimensional forest.
Admission: $511:00 am and 3:00 pm
FAM FEST (Forest Acres Music Festival)
Rock at Richland Mall at the annual music festival in Forest Acres. Featured artists include BeauSoleil avec Michael Doucet, Charlie Bob Smith, Peter Cooper and Eric Brace.
Advance tickets are $5, $8 at the door, and children under 12 are admitted for free.1:00 - 9:00 pm
Dr. Jekyll and Mr. Hyde
by Chapin Community Theatre at
Midlands Tech Theatre
3:00 and 8:00 pm, Friday and SaturdayPride & Prejudice at Finlay Park 7:30 pm, Friday and SaturdaySUNDAY, OCTOBER 21
SC State Fair & Pepsi Grandstand Concerts
It's your last day! Get your last fair food fix in for the year, and hop on rides before it leaves town. And to close out another 'famously hot' fair, the Pepsi Grandstand act is Jake Owens and the Eli Young Band.
Purchase tickets online for Grandstand acts.
Fair admission is available at the gates.
Fair Noon - 9:00 pm, concert at 6:00 pm
Palmetto Outdoor Presents Halloween History Tour
4:00 - 6:00 pm, Saturday and Sunday