It's a magical weekend here in Columbia, SC. Kick it off with Disney on Ice, sprinkle in a few Indie Grits films and top it all off with the International Festival: a perfect recipe for a weekend you'll never forget. Check out our round-up below and our calendar of events for everything happening in the New Southern Hot Spot.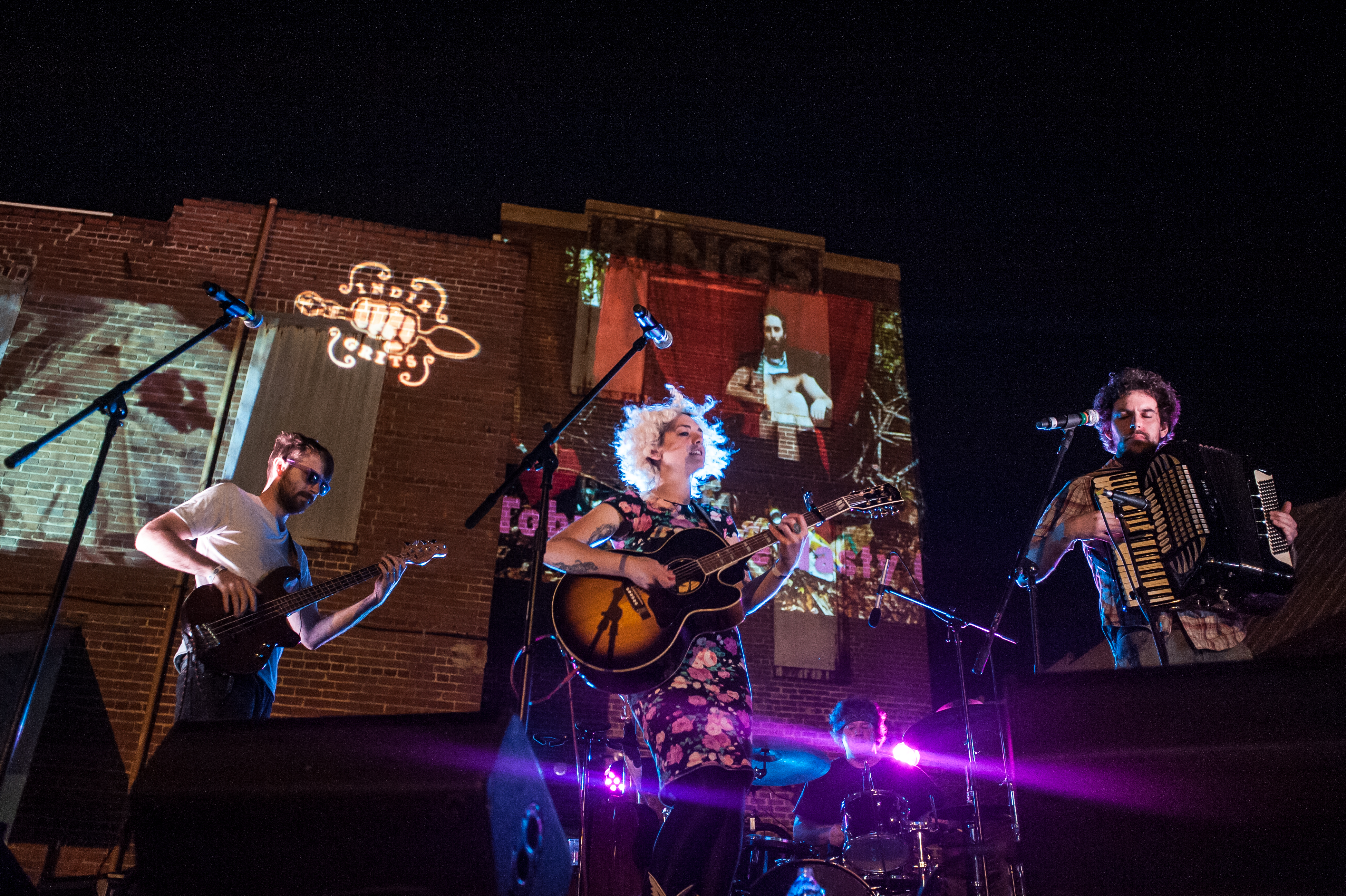 The New Festival Hot Spot
Folksy singers, experimental films, cutting-edge technology and boundary-pushing art abound at the five-day, creative extravaganza, Indie Grits. Catch flicks all weekend long, party until the break of dawn at the Closing Party and sample delectable, environmentally-friendly dishes at Slow Food (you can get all the details with our list of 8 Things to Do at Indie Grits).

Travel around the world in one day at the 20th Annual Columbia International Festival. Did you know that when Olympia Mill opened in 1899, it was widely recognized as "the largest cotton mill under one roof in the world?"Period docents will be travelling through Olympia Fest sharing stories of its fascinating history. Finally, pop, lock and drop at the annual Love, Peace and Hip Hop Annual Music Festival in the heart of Main Street.
The New Athletic Hot Spot
It's a bird, it's a plane! No, it's a Super Hero 5K! Put on your best tights and billowing capes to support Jillian's Cure. Then, enjoy a once-in-a-lifetime adventure during the Quarry Crusher Run, racing through an area that is usually prohibited to the public. Grab a Frisbee and some friends to join the Ladies & Gents Mixed Doubles Disc Golf Tournament. Push your body to the limit at the Southern Amateur Grid League Matches. Finally, bring your pooch for an afternoon of fun in the sun at Finlay Park's Bark to the Park.
Check out our daily guide below. For more things to do around Columbia, SC, visit our calendar of events!
FRIDAY, APRIL 17
USC Dance Company: 10th Annual Ballet Stars of NY Gala Performance at Koger Center for the Arts 7 p.m.; Students: $15, 2nd Balcony: $25, 1st Balcony: $30, Orchestra: $35
SATURDAY, APRIL 18
2015 Quarry Crusher Run at Historic Olympia Quarry
Indie Grits Closing Party at 1216 Taylor Street 10 p.m.; Free admission
Olympia Fest at Olympia & Granby Mills 9 a.m. - 3 p.m.
Love, Peace & Hip Hop Annual Music Festival at Main Street 11 a.m. - 5 p.m.
Ladies & Gents Mixed Doubles Disc Golf Tournament at Earlewood Disc Golf Course 9 a.m.; Novice: $20/team, Amateur $30/team & Professional: $40/team
USC Theatre: The Three Musketeers at Long Street Theatre 8 p.m.; Student: $12, USC Faculty/Staff, Military, Seniors 60+: $16, General Public: $18 
A Day of MAGIC "Igniting and Celebrating the Beauty in You" at Hilton Columbia Center 8 a.m. - 2 p.m.; $65 
Southern Amateur Grid League Matches at Carolina CrossFit 
Super Hero 5K for Jillian's Cure at Virginia Hylton Park 7:30 a.m. - noon; $35 
Bark to the Park at Finlay Park 9 a.m. to 1 p.m.; $30 Walker Registration 
"Puss in Boots" at Columbia Marionette Theatre 11 a.m. & 3 p.m.; $5.75
South Carolina State House Tours at South Carolina State House 9 a.m. - 4:30 p.m.; Free admission
Soda City Market at Main Street 9 a.m. - 1 p.m.; Free admission
SUNDAY, APRIL 19
Slow Food at Indie Grits Sustainable Chefs Showcase 3 p.m. - p.m.
Dollar Sunday at Historic Columbia at Robert Mills 1 p.m. - 5 p.m.; $1 for residents of Richland & Lexington County (must show valid ID) |
WEEKEND-LONG EVENTS
Indie Grits Film Festival at Nickelodeon Theatre Thursday - Sunday
20th Annual Columbia International Festival at South Carolina State Fairgrounds Saturday 10 a.m. - 7 p.m. & Sunday noon - 6 p.m.; $5 at the Gate, $4 Advance, $1 Ages 6-12, Children 5 and under free
Disney On Ice: Let's Celebrate at Colonial Life Arena Thursday 7 p.m., Friday 10:30 a.m. and 7 p.m., Saturday 2 p.m. & 6 p.m., Sunday 2 p.m.; $47 (Rinkside), $37 (VIP), $27, $22, $17; $15 for Opening Night in P3-P5
"Skippyjon Jones in Cirque de Ole" at Columbia Children's Theatre Saturday 10:30 a.m., 2 p.m. & 7 p.m. and Sunday 3 p.m.; $10
Nashicon at Columbia Metropolitan Convention Center Friday - Sunday $5-$25
RECURRING EXHIBITS
Happy Hour History Tour | Five Points at the Five Points Fountain, Harden & Greene Streets Every Friday 5:30 p.m. - 7 p.m.; HC members: $20 & Non-member: $25
Eto Otitigbe: Ruptured Silence at 701 Center for Contemporary Art Friday 11 a.m. - 5 p.m., Saturday 9 a.m. - 5 p.m., Sunday 1 - 5 p.m.
From Landrum to Leeds: Common Ceramics in 19th-Century Columbia at Robert Mills House & Gardens Friday - Sunday 12 - 4 p.m.; $4 - $8
Prideful Possessions: A South Carolina Silver Sampler at Robert Mills House & Gardens Friday and Saturday 10 a.m. - 4 p.m., Sunday 1- 5 p.m.; $4 - $8
Paths of Destruction: Sherman's Final Campaign at South Carolina Confederate Relic Room and Military Museum Friday and Saturday 10 a.m. - 5 p.m., First Sunday 1 - 5 p.m.; $2 - $5
Traditions, Change, and Celebration: Native Artists of the Southeast at McKissick Museum Friday 8:30 a.m. - 5 p.m., Saturday 11 a.m. - 3 p.m.; Free admission
Charles Courtney Curran: Seeking the Ideal at Columbia Museum of Art Friday 11 a.m. - 5 p.m., Saturday 10 a.m. - 5 p.m., Sunday 12 - 5 p.m.; $12
South Carolina State Museum has a variety of ongoing exhibits open Friday 10 a.m. - 5 p.m., Saturday 10 a.m. - 6 p.m., Sunday 12 - 5 p.m.; $5 - $7