Celebrate America's independence this weekend with fireworks, festivals, baseball and more! Read on for our roundup below, then take a look at our calendar of events for everything going on in Columbia, SC.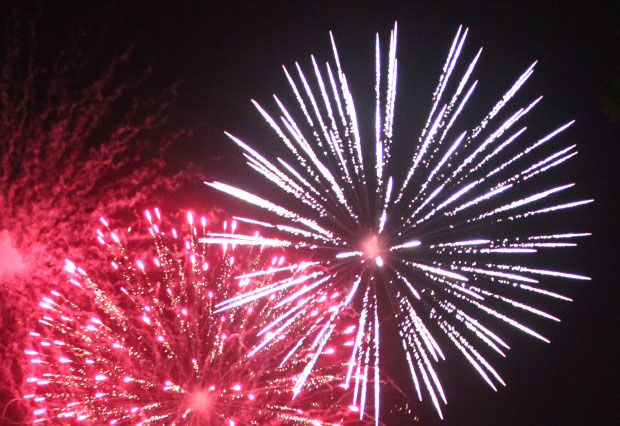 The New Holiday Hot Spot
Make the most of the long holiday weekend by packing in as many 4th of July festivities and summer activities as you can!
Show off your patriotism at Lake Murray's 4th of July Celebration, Torchlight Tattoo & Fireworks, EdVenture's Star Spangled Day and Military Appreciation Day or Lake Murray Symphony Orchestra's "Star Spangled Symphonic Salute." Or, break a sweat at the 4th of July 5K/ 10K Fun Run/ Walk or Born in the USA Run & Relay.
What better way to celebrate America than with its favorite pastime? Catch a baseball game with some friends and family. Both the Fireflies and Lexington County Blowfish have games this weekend.
This weekend also sees the return of the Lexington County Peach Festival, so get your fill of all things peach and be sure to stick around for the parade and fireworks!
Finally, kick back and relax for some entertainment. Check out the Summer Movie Series, Summer Concert Series, or Trustus Theatre's latest production - "Green Day's American Idiot."
Check out our daily guide below. For more things to do around Columbia, SC, visit our calendar of events!
FRIDAY, JULY 1:
Lexington Blowfish vs. USC Gamecocks at Lexington County Blowfish 7 p.m.; $6 - $9
Summer Movie Series at Riverfront Park 7:30 p.m.; Free admission
SATURDAY, JULY 2:
4th of July 5K/ 10K Fun Run/ Walk at Fort Jackson 8 a.m.; Free admission
Soda City Market at City Center/ Main Street 9 a.m. - 1 p.m.; Free admission
South Carolina State House Tours at South Carolina State House 9 a.m. - 4:30 p.m.; Free admission
Summertime Saturdays and Star Spangled Day at EdVenture Children's Museum 9 a.m. - 5 p.m.; $11.50
Lake Murray's 4th of July Celebration at Lake Murray 12 - 10 p.m.; $1.25 - $3
Torchlight Tattoo & Fireworks at Fort Jackson 4 - 10 p.m.; Free admission
Summer Concert Series at Finlay Park 7 - 10 p.m.; Free admission
Lexington Blowfish vs. Fayetteville SwampDogs at Lexington County Blowfish 7 p.m.; $6 - $9
SUNDAY, JULY 3:
Gallery Tour: Highlights of the CMA Collection at Columbia Museum of Art 2 p.m.; Free admission
Lexington Blowfish vs. Wilmington Sharks at Lexington County Blowfish 6 p.m.; $6 - $9
No Limit Reunion Tour at Township Auditorium 7 p.m.; $41 - $101
Lake Murray Symphony Orchestra Presents "Star Spangled Symphonic Salute" at Saluda Shoals Park 8 p.m.; $5 - $11
MONDAY, JULY 4:
Born in the USA Run & Relay at Trenholm Road and Forest Drive 7:45 a.m.; $30 - $40
Lexington County Peach Festival at Gilbert Community Park 9 a.m. - 11 p.m.; Free admission
Military Appreciation Day at EdVenture Children's Museum 9 a.m. - 5 p.m.; Free admission
Lexington Blowfish vs. Edenton Steamers at Lexington County Blowfish 6 p.m.; $6 - $9
Fireflies vs. Charleston at Spirit Communications Park 7:05 p.m.; $5 - $10
ALL WEEKEND:
"Green Day's American Idiot" at Trustus Theatre Friday and Saturday 8 p.m., Sunday 3 p.m.; $25 - $35
Doo Doo Brown at The Comedy House Friday 8 p.m. and 10:30 p.m., Saturday 6:30 p.m., 9 p.m. and 11:30 p.m., Sunday 7 p.m.; $18
Blooming Butterflies at EdVenture Children's Museum Friday and Saturday 9 a.m. - 5 p.m., Sunday 12 - 5 p.m.; $10.50 - $11.50
Historic Columbia Historic House Museum Tours at Historic Columbia Friday and Saturday 10 a.m. - 3 p.m., Sunday 1 - 4 p.m.; $4 - $28
Route to (Re)settlement at Mann-Simons Site Friday and Saturday 1 - 4 p.m.
Columbia Museum of Art has a variety of ongoing exhibits open Friday 11 a.m. - 5 p.m., Saturday 10 a.m. - 5 p.m., Sunday 12 - 5 p.m.; $12
• Big & Bold: Selections from the Collection
• Daufuskie Memories
South Carolina State Museum has a variety of ongoing exhibits open Friday 11 a.m. - 5 p.m., Saturday 10 a.m. - 6 p.m., Sunday 12 - 5 p.m.; $6.95 - $8.95
• RACE: Are We So Different? 
• Art: A Collection of Collections
• Time and Place: The Artwork of James Fowler Cooper
McKissick Museum has a variety of ongoing exhibits open Friday 8:30 a.m. - 5 p.m., Saturday 11 a.m. - 3 p.m.; Free admission
• Richard Burnside: Who is King?
• On Air in South Carolina: Preserving Radio and Television History at the SCBA Archives
• Heard at Every Turn: Traditional Music in South Carolina