School may be back in session, but summer isn't over yet! Spend your weekend soaking up the sun and spending time outdoors at various events around town. Keep reading for our roundup below and then be sure to check out our calendar of events for even more that's happening in Columbia, SC!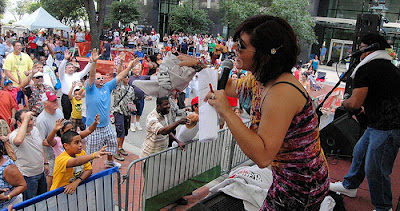 The New Southern Hot Spot
There's something special about summertime in the South. Cool off this weekend at the Happy Hour Water Balloon Battle or by zooming around the Historic Columbia Speedway for Rise N' Slide! Have a quiet night out watching Big Hero 6 at Movies in the Park or jam out all day at the Main Street Latin Festival or The Reggaetronic Lake Murray Music Festival. Have fun indoors, too! Check out the new exhibit at the South Carolina State Museum - Threads: The Story in Our Clothes, catch a production of "Big City" at Trustus Theatre or get artsy at Craft & Kvell.
Check out our daily guide below. For more things to do around Columbia, SC, visit our calendar of events!
Join the 2015 #Reggaetronic Event Page here: https://t.co/tEq2J3TRj6 #titosvodka pic.twitter.com/AqFHsan4HE

— Reggaetronic SC (@ReggaetronicSC) August 17, 2015
FRIDAY, AUGUST 21:
Happy Hour Water Balloon Battle at Robert Mills House & Gardens 5:30 - 7 p.m.; $15 - $20
Movies in the Park at North Springs Park 7:30 p.m.; Free admission
Friday Bluegrass & Acoustic Open Stage & Jam at Bill's Music Shop & Pickin' Parlor 6 p.m. - 12 a.m.; $5 donation
SATURDAY, AUGUST 22:
Soda City Market at Main Street 9 a.m. - 1 p.m.; Free admission
Rise N' Slide at Historic Columbia Speedway 11 a.m.; $15 - $50
Main Street Latin Festival at Main Street 11 a.m. - 9 p.m.; Free admission
The Reggaetronic Lake Murray Music Festival at Lake Murray 12 - 6:45 p.m.; Free admission
FOLKFabulous at McKissick Museum 11 a.m. - 5 p.m.; Free admission
South Carolina State House Tours at South Carolina State House 9 a.m. - 4:30 p.m.; Free admission
Bremen Town Musicians at Columbia Marionette Theatre 11 a.m. and 3 p.m.; $5
"Puss in Boots" at Columbia Marionette Theatre 11 a.m. and 3 p.m.; $5.75
The Haynes 4th Saturday Bluegrass Series at The Haynes Auditorium Jam Session: 4:30 - 6:30 p.m., Open Stage: 6:30 p.m., Bluegrass Shows: 7:15 p.m. & 8:15 p.m.; $7
Saturday Classic Country Music Jamboree & Dancing at Bill's Music Shop & Pickin' Parlor 7 - 10 p.m.; $5 donation
SUNDAY, AUGUST 23:
Craft & Kvell at Katie & Irwin Kahn Jewish Community Center 8:30 a.m. - 5:30 p.m.; $5
ALL WEEKEND:
"Big City" at Trustus Theatre Friday and Saturday 8 p.m., Sunday 3 p.m.; $25 - $30
Ulterior Motives at WOW Performing Arts Center Friday 8 p.m., Saturday 3 p.m. and 8 p.m., Sunday 5 p.m.; $20 - $25
Blooming Butterflies at EdVenture Children's Museum Friday and Saturday 9 a.m. - 5 p.m., Sunday 12 - 5 p.m.; $11.75
The Adventures of MR. POTATO HEAD at EdVenture Children's Museum Friday and Saturday 9 a.m. - 5 p.m., Sunday 12 - 5 p.m.; $11.75
From Marilyn to Mao: Andy Warhol's Famous Faces at Columbia Museum of Art Friday 11 a.m. - 5 p.m., Saturday 10 a.m. - 5 p.m., Sunday 12 - 5 p.m.; $12
Exhibition "In and Out of the Wild: Animals in Art" at Gallery West Friday and Saturday 11 a.m. - 7 p.m., Sunday 10 a.m. - 2 p.m.; Free admission
From Landrum to Leeds: Common Ceramics in 19th-Century Columbia at Robert Mills House & Gardens Friday - Sunday 12 - 4 p.m.; $4 - $8
Prideful Possession: A South Carolina Silver Sampler at Robert Mills House & Gardens Friday and Saturday 10 a.m. - 4 p.m., Sunday 1 - 5 p.m.; $4 - $8
South Carolina State Museum has a variety of ongoing exhibits open Friday 10 a.m. - 5 p.m., Saturday 10 a.m. - 6 p.m., Sunday 12 - 5 p.m.; $5 - $7
• Threads: The Story in Our Clothes
• Bugs! Giant Robotic Creatures
• Carolina Makers
• Finding Freedom's Home: Archaeology in Mitchelville
• The Art and Life of Addie Sims: A Look Into Her World
• Lincoln: The Constitution and the Civil War