The long summer days are here to stay, so fill them up with some of the fun activities and events we have going on this weekend! Keep reading for our roundup below, then check out our calendar of events for all that's happening in Columbia, SC.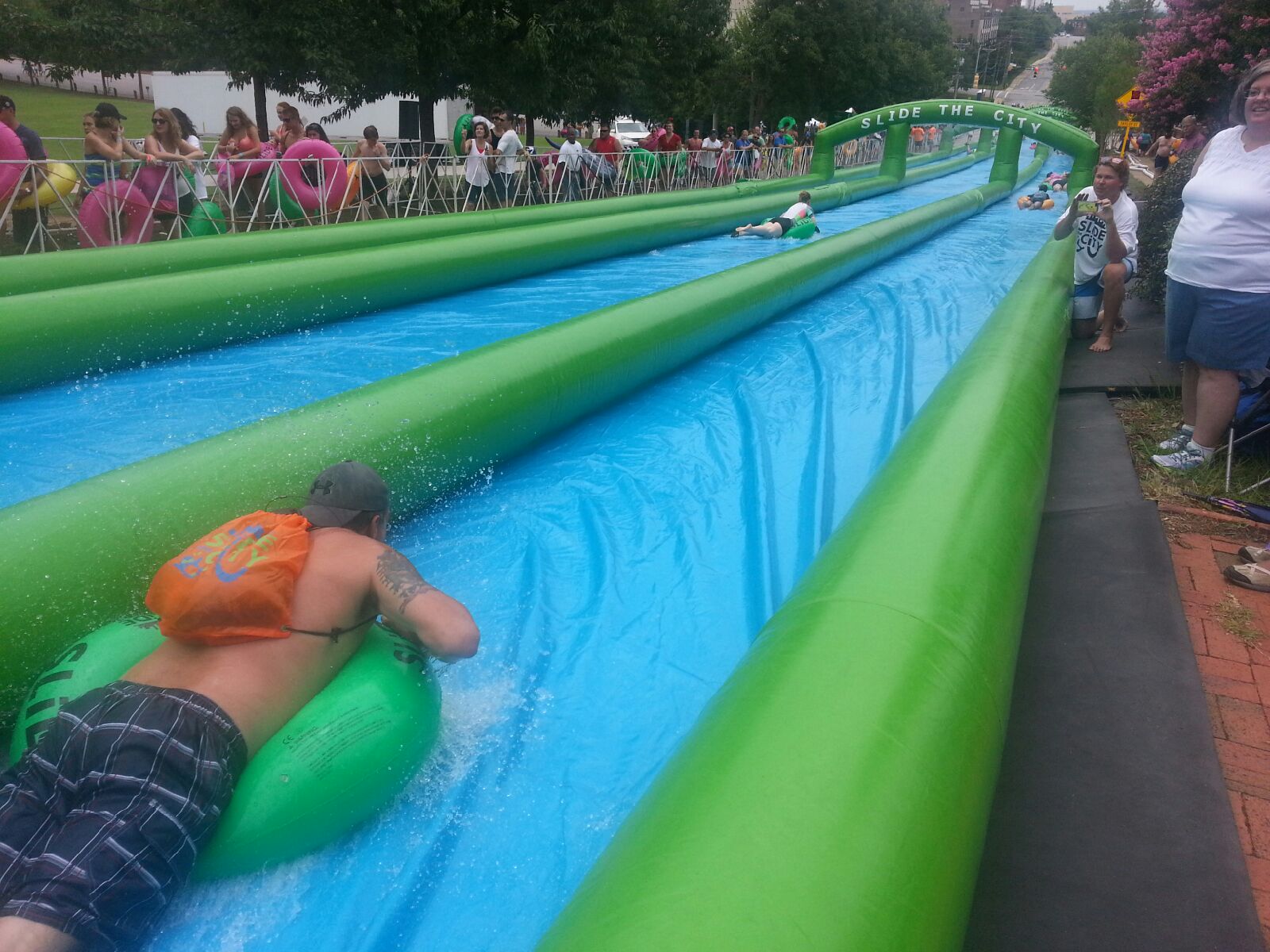 The New Southern Hot Spot
Soak up the sun this weekend and check out some of Columbia's seasonal events, menus and more!
Catch a movie under the stars Friday night at Twilight in the Garden or at the Summer Movie Series. If outdoor concerts are more your thing, DriftJam, Doko Fest, Rhythm on the River and the Summer Concert Series have you covered.
Get wet and wild this Saturday as you tube down a 1,000-ft. slip and slide at Slide the City! Finish out the day unwinding at a baseball game. Both the Fireflies and the Blowfish will be at the bat this weekend.
Harvest Week is back! Enjoy the taste of summer as you dig in to Motor Supply's special hyper-local menu or just enjoy a few masterful craft cocktails.
Finally, tickle the ivories or strum a few chords at the Southeastern Piano Festival or Southern Guitar Festival.
Check out our daily guide below. For more things to do around Columbia, SC, visit our calendar of events!
#DRIFTAM @douggainey @comeonringit @Tryon_Music @VillanovaRocks @kellycheatsband @kennygeorgeband @columbiasc pic.twitter.com/NjT4nv01qm

— Drift Jam (@DRIFTJAMSC) May 15, 2016
FRIDAY, JUNE 10:
Twilight in the Garden at Riverbanks Zoo & Garden 6 p.m.; $3 - $5
Lexington Blowfish vs. Savannah Bananas at Lexington County Blowfish 7 p.m.; $6 - $9
Summer Movie Series at Riverfront Park 7:30 p.m.; Free admission
SATURDAY, JUNE 11:
Slide the City at Laurel and Gadsden Streets 9 a.m. - 7 p.m.; $30 - $50
Soda City Market at City Center/ Main Street 9 a.m. - 1 p.m.; Free admission
South Carolina State House Tours at South Carolina State House 9 a.m. - 4:30 p.m.; Free admission
Summertime Saturdays at EdVenture Children's Museum 9 a.m. - 5 p.m.; $11.50
Doko Fest at Doko Meadows Park 10 a.m. - 4 p.m.; Free admission
DriftJam at Lake Murray 12 - 6 p.m.; Free admission
Rhythm on the River at Wyman M. "Mac" Rish Riverwalk Park & Amphitheater 6 - 9 p.m.; Free admission
Hope in Harmony at Tapp's Arts Center 6 - 8:30 p.m.; $8
Lexington Blowfish vs. Gastonia Grizzlies at Lexington County Blowfish 7 p.m.; $6 - $9
Summer Concert Series at Finlay Park 7 - 10 p.m.; Free admission
Kevin Gates & Friends at Township Auditorium 8 p.m.; $41 - $101
SUNDAY, JUNE 12:
12-Cent Kids' Day at EdVenture Children's Museum 12 - 5 p.m.; $0.12
Gallery Tour: Highlights of the CMA Collection at Columbia Museum of Art 2 p.m.; Free admission
Southeastern Piano Festival at Johnson Performance Hall at the Darla Moore School of Business 4 p.m.; $5 - $20
ALL WEEKEND:
Harvest Week at Motor Supply Co. Bistro Friday, Saturday and Sunday 5:30 p.m.
Southern Guitar Festival at Columbia Museum of Art Saturday 9:30 a.m. - 6 p.m., Sunday 10 a.m. - 4:30 p.m.; $11 - $126
Fireflies vs. West Virginia at Spirit Communications Park Friday and Saturday 7:05 p.m., Sunday 2:05 p.m.
Trustus Theatre Presents "The Testament of Mary" at Columbia Museum of Art Friday and Saturday 8 p.m., Sunday 3 p.m.; $25 - $30
Over the Edge at The Hub Friday and Saturday; Free for spectators
"The Commedia Hansel & Gretel" at Columbia Children's Theatre Friday 7 p.m., Saturday 10:30 a.m., 2 p.m. and 7 p.m., Sunday 3 p.m.; $8 - $10
Blooming Butterflies at EdVenture Children's Museum Friday and Saturday 9 a.m. - 5 p.m., Sunday 12 - 5 p.m.; $10.50 - $11.50
Historic Columbia House Museum Tours at Historic Columbia Friday and Saturday 10 a.m. - 3 p.m., Sunday 1 - 4 p.m.; $4 - $28
Route to (Re)settlement at Mann-Simons Site Friday and Saturday 1 - 4 p.m.
Columbia Museum of Art has a variety of ongoing exhibits open Friday 11 a.m. - 5 p.m., Saturday 10 a.m. - 5 p.m., Sunday 12 - 5 p.m.; $12
• Big & Bold: Selections from the Collection
• Daufuskie Memories
South Carolina State Museum has a variety of ongoing exhibits open Friday 10 a.m. - 5 p.m., Saturday 10 a.m. - 6 p.m., Sunday 12 - 5 p.m.; $5 - $7
• RACE: Are We So Different?
• Art: A Collection of Collections
• Time and Place: The Artwork of James Fowler Cooper
McKissick Museum has a variety of ongoing exhibits open Friday 8:30 a.m. - 5 p.m., Saturday 11 a.m. - 3 p.m.; Free admission
• Richard Burnside: Who is King? 
• On Air in South Carolina: Preserving Radio and Television History at the SCBA Archives
• Heard at Every Turn: Traditional Music in South Carolina