This weekend marks the official start to spring, so get out and enjoy the #famouslyhot weather and the even hotter events going on around town. Read on for our roundup below, then take a look at our calendar of events for everything that's happening in Columbia, SC!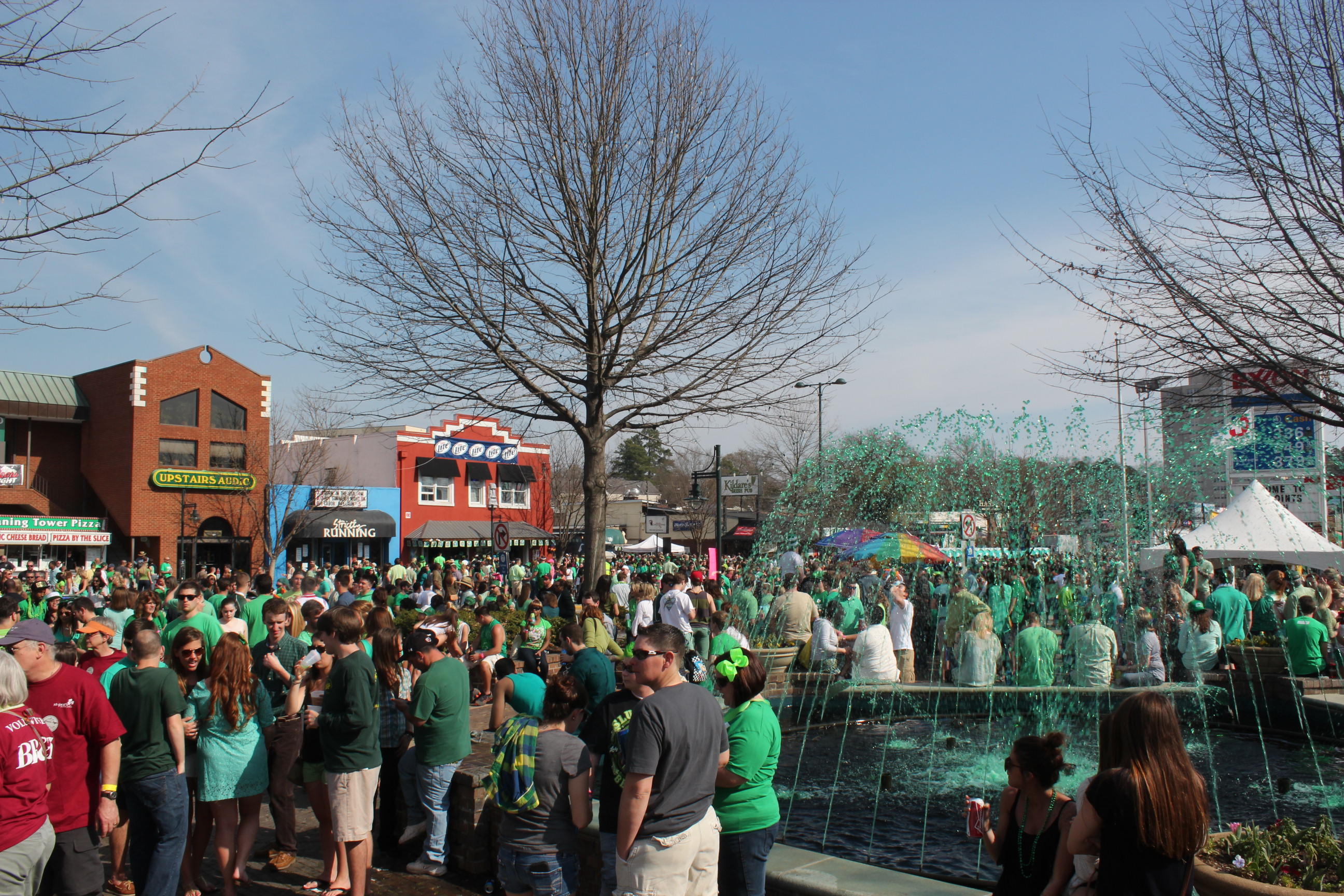 The New Southern Hot Spot
There are so many ways to experience Columbia and this weekend offers a little bit of everything. Grab your running shoes! Whether you're making it all the way to Charleston for the Palmetto 200 Relay or just trying to Get to the Green, there are options for runners of all experience levels. Soda City Suds Week, a celebration of Columbia's craft beer scene, kicks off Friday with a Historic Hoppy Hour or a tour of the city's newest brewery, Twisted Spur. Saturday morning, fuel up for the day at Soda City Suds & Spuds Market, then celebrate as only the Irish know how at St. Pat's in Five Points. Easter festivities abound this Saturday, as well, with Easter Eggsplosion and the Easter Bunny Eggspress Train. Keep the day low key with the kids and take them to the "Peter Pan Tea and Pirate Party" at Koger Center for the Arts before a performance of Columbia City Ballet Presents "Peter Pan." May as well stay in Neverland! Trustus Theatre has performances of "Peter and the Starcatcher" running all weekend. Get your additional dose of Disney with "Aladdin," "Beauty and the Beast Jr." and "Disney's The Jungle Book Kids." Finally, Palmetto Sportsmen's Classic is back at the South Carolina State Fairgrounds, so stock up on your fishing, hunting and outdoor gear for the season!
Check out our daily guide below. For more things to do around Columbia, SC, visit our calendar of events!
FRIDAY, MARCH 18:
Palmetto 200 Relay at Red Bank Arena 6 a.m.; $900 - $1500
Arte Corporis: Exploring the Anatomical Body at McMaster Gallery 9 a.m. - 4:30 p.m.; Free admission
Historic Hoppy Hour at Hampton-Preston Mansion & Gardens 5:30 - 7 p.m.; $15 - $20
USC Women's Basketball vs. Jacksonville in the NCAA Tournament at Colonial Life Arena 7:30 p.m.; $23
SATURDAY, MARCH 19:
St. Pat's Get to the Green at Maxcy Gregg Park 7:30 a.m.; $20 - $40
St. Pat's in Five Points at Five Points 9 a.m. - 7 p.m.; $15 - $20
Soda City Suds & Spuds Market at City Center/ Main Street 9 a.m. - 3 p.m.; Free admission
South Carolina State House Tours at South Carolina State House 9 a.m. - 4:30 p.m.; Free admission
Easter Eggsplosion at Northstar Christian Center 9:30 a.m. - 12 p.m.; Free admission
Easter Bunny Eggspress Train at South Carolina Railroad Museum, 10 a.m. - 3 p.m.; $15 - $20
"Aladdin" at Columbia Marionette Theatre 11 a.m. and 3 p.m.; $5
Columbia City Ballet Presents "Peter Pan Tea and Pirate Party" at Koger Center for the Arts 1:30 p.m.; $25
WOW Productions Presents "Confessions of a Good Man" at Patriot Hall 6 p.m.; $25 - $32
SUNDAY, MARCH 20:
Gallery Tour: Highlights of the CMA Collection at Columbia Museum of Art 2 p.m.; Free admission
Parker Quartet Family Concert at Johnson Performance Hall, Darla Moore School of Business 5 p.m.; Free admission
ALL WEEKEND:
Soda City Suds Week at varying locations at various times
Palmetto Sportsmen's Classic at South Carolina State Fairgrounds Friday 12 - 8 p.m., Saturday 9 a.m. - 7 p.m., Sunday 11 a.m. - 6 p.m.; $5 parking, $7 - $8 admission
Columbia City Ballet Presents "Peter Pan" at Koger Center for the Arts Friday 7:30 p.m., Saturday 3 p.m. and 7:30 p.m.; $20 - $45
"Beauty and the Beast Jr." at Town Theatre Friday 7 p.m., Saturday 3 p.m. and 7 p.m., Sunday 3 p.m.; $10
"Peter and the Starcatcher" at Trustus Theatre Friday and Saturday 8 p.m., Sunday 3 p.m.; $25 - $35
Shaun Jones at The Comedy House Friday 8 p.m. and 10:30 p.m., Saturday 7 p.m. and 9:30 p.m., Sunday 7 p.m.; $10
Workshop Theatre Presents "Steel Magnolias" at 701 Whaley Street Friday and Saturday 8 p.m., Sunday 3 p.m.; $10 - $20
"Disney's The Jungle Book Kids" at Columbia Children's Theatre Friday 7 p.m., Saturday 11 a.m. and 3 p.m., Sunday 3 p.m.; $8 - $10
Dinos: The Big Dig at EdVenture Children's Museum Friday and Saturday 9 a.m. - 5 p.m., Sunday 12 - 5 p.m.; $10.50 - $11.50
Historic Columbia Historic House Museum Tours at Historic Columbia Friday and Saturday 10 a.m. - 3 p.m., Sunday 1 - 4 p.m.; $4 - $28
Columbia Museum of Art has a variety of ongoing exhibits open Friday 11 a.m. - 5 p.m., Saturday 10 a.m. - 5 p.m., Sunday 12 - 5 p.m.; $12
• REMIX: Themes & Variations in African American Art
• Spoken: African American Art from the Collection
• Art Reimagined
South Carolina State Museum has a variety of ongoing exhibits open Friday 10 a.m. - 5 p.m., Saturday 10 a.m. - 6 p.m., Sunday 12 - 5 p.m.; $5 - $7
• Holocaust Remembered
• Julius Caesar: Roman Military, Might and Machines
• Time and Place: The Artwork of James Fowler Cooper
McKissick Museum has a variety of ongoing exhibits open Friday 8:30 a.m. - 5 p.m., Saturday 11 a.m. - 3 p.m.; Free admission
• A Spirit of Place: USC's Buildings and Their Namesakes
• Family Ties: South Carolina Women Photographers on Family
• Heard at Every Turn: Traditional Music in South Carolina
• Identi-Tee: Beyond the White T-Shirt