Who's the hottest chef in town?
Tuesday, October 18, 2011 10:21 AM by Mandi Engram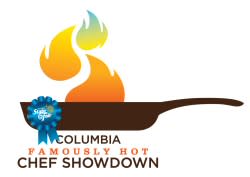 Find out tonight! The night has finally arrived for the 'Famously Hot Chef Showdown' at South Carolina State Fair. Don't miss this Iron-Chef >Mr. Friendly's New Southern Cafe, Tim Peters of Motor Supply Company Bistro, and Mike Davis of Terra) in a 1 ½ hour competition that promises to have all the drama and thrills you would expect from a cooking competition. The chefs will battle it out live in front of fair goers and will be judged by a panel of guest judges to determine the ultimate winner of the Showdown. Finalists were selected by a public voting process through social media and in-person.

Celebrity and former White House Executive Chef Walter Scheib will be the master of ceremonies for the first annual Famously Hot Chef Showdown and will act as one of four judges who will crown Columbia's first 'Famously Hot' chef.

The competition will take place Tuesday, October 18, 2011 from 5:00 to 7:00 pm at the WIS stage and is presented by South Carolina State Fair, in partnership with General Sales, WIS TV, South Carolina Hospitality Association, the Greater Columbia Restaurant Association, the American Culinary Federation Midlands Chapter and the All-Local Farmers' Market.

Keep up with the Famously Hot Chef Showdown on Facebook and Twitter.