Zac Brown Band coming to Colonial Life Arena
Monday, January 30, 2012 11:55 AM by Mandi Engram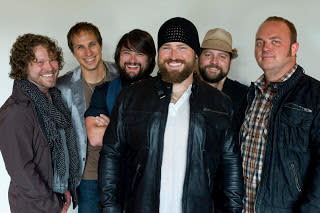 C. Taylor Crothers

Zac Brown Band will play at Colonial Life Arena in Columbia, SC on Friday, March 23, 2012, with special guest Trombone Shorty opening the show. Tickets go on sale Saturday, February 4 at 10:00 am and will be available online at LMCtix.com, in person at the Lexington Medical Center box office at Colonial Life Arena, Columbia Play It Again Sports, or charge by phone 1.855.4.LMC.TIX (1.855.456.2849). For individual suite rentals, please call 803.576.9078 or 803.576.9077. Make a weekend of your concert experience and book a hotel room.

After an eventful year on the charts and on the road, GRAMMY-Award winning Zac Brown Band has proven that "overnight success" can be years in the making. New fans drawn by the irresistible hit singles, the awe-inspiring musicianship and dynamic live shows might have thought the Zac Brown Band emerged from nowhere. In fact, the band has paid its dues for years and put in its time for just this moment, it may have happened quickly, but it's definitely built to last. Zac Brown Band's second major label studio album 'You Get What You Give' (Atlantic/Southern Ground Artists, Inc.) was released on September 21st, 2010 and debuted at #1 on the Billboard 200 chart. The album features guest appearances by Alan Jackson and Jimmy Buffett and as Zac explained to Associated Press, "It's a defining record...Every step of it's done the right way and I expect people are really going to love this record and see the depth of our musicianship, we're always growing. Not that we've arrived at any grand finale or anything, but the progress from this last record to this one, it's tremendous and I'm proud of it."

Since the release of their Grammy-nominated 2010 debut album, Backatown, Trombone Shorty & Orleans Avenue have grown creatively while winning hordes of new fans performing nonstop on five continents. Their new album, 'For True' (Sept. 13 on Verve Forecast) offers substantive proof of their explosive growth, further refining the signature sound Troy "Trombone Shorty" Andrews has dubbed "Supafunkrock." The band stirs together old-school New Orleans jazz, funk and soul, laced with hard-rock power chords and hip-hop beats, and they've added some tangy new ingredients on 'For True' as they keep pushing the envelope, exploring new musical territory.

Keep up with the latest on upcoming concerts and shows coming to Colonial Life Arena on Facebook and Twitter.