An Invitation from the Greater Columbia Chamber of Commerce:

Army Strong!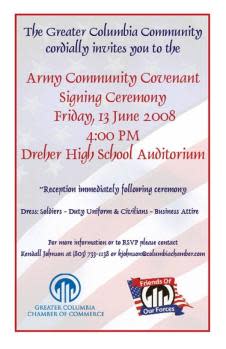 It is time to stand up and speak out

At the request of the Secretary of the Army, we will hold two very important events to acknowledge and publicly celebrate the signing of an Army Community Covenant that pledges this Community's unequivocal support of our Soldiers who daily stand in harm's way and of their Families, who remain behind.

Army Community Covenant Signing Ceremony
Friday, June 13, 2008 at 4:00 p.m.
Dreher High School (please note the change in location)

There will be a formal signing of a community covenant in support of our Soldiers by local officials and community & military leaders.

Click here to view the invitation.

Public Celebration of the Army's 233rd Birthday
Saturday, June 14, 2008 at 6:00 p.m.
Capital City Stadium.

Soldiers from Ft. Jackson, our Army National Guard and Army Reserve and their Families will be the Community's guests at a 6:00 picnic in Capital City Stadium.  Anyone with a valid military ID will be admitted free to the 7:05 p.m. baseball game between the Columbia Blowfish and Florence Redwolves. Following the game there will be a spectacular fireworks display and patriotic music sponsored by FN Manufacturing.

Please visit the Greater Columbia Chamber of Commerce website for more details by clicking here.