Getting Around
With several distinct shopping districts and a recently revitalized downtown, tons of new shops, restaurants and other thriving businesses mix in amidst old favorites. Columbia SC grants you front row access to all of this with manageable traffic, lots of parking and walkable districts, too. Check out our tips for getting around Columbia with ease.
Ride Sharing 
Columbia has Uber, Lyft, and taxis available to get you from point A to point B. Not to mention you'll get all the local tips from your driver. 
Comet Bus System & Soda Cap Connector
The transit system in Columbia is noticeable by its neon-painted buses. With routes across the Columbia region, the COMET can get wherever you need to go for as little as $2. Or, hop on the Soda Cap Connector for just $1 to get you from one entertainment district to another. Find out more about our bus transportation system here.

Parking
Parking is a snap when you're shopping and dining in Columbia SC. Plenty of parking garages are available in our downtown districts, or download the Passport Parking app to pay easily when sliding into a spot along one of our bustling streets. Find more information on locations of garages and lots here.
Biking
Want to see Columbia's many entertainment districts without worrying about a car? Explore our city on two wheels. If you travel with your own bicycle, we're impressed, and we have the app for you. Find out more about the Sprocket app on our Biking page. Don't have a bike on hand? There's a Bike Share Program for that.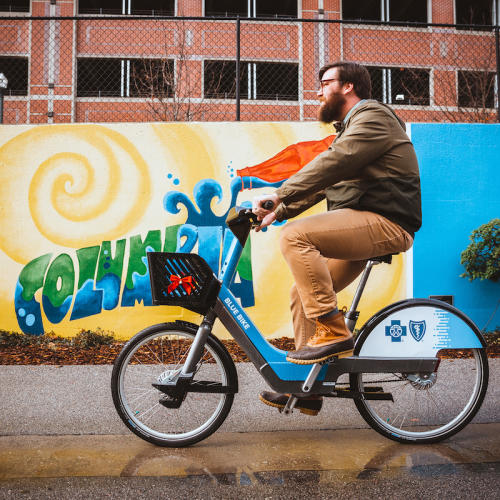 Main Street District's E-Rover
Call the Main Street District's E-rover to catch a free ride anywhere within the 36-block area bounded by Gervais, Elmwood, Assembly and Marion streets. Call (803) 309-7758 (Monday - Sunday, 7:30 a.m. to 11:00 p.m.).