Pimento Cheese in Columbia SC 
You may be surprised to learn that Columbia has claim to one of the oldest recorded pimento cheese recipes, first written in a fundraising cookbook in 1912. While the origin of pimento cheese is a hotly debated topic, this recipe used all of the ingredients still adored in the South today – grated cheese, pimentos and mayonnaise. We also proudly call our city home to the stroke of genius that is the pimento cheeseburger, serving up this tasty combination since the early 1960s. Regardless of history, there's no doubt that we do pimento cheese right in Columbia SC.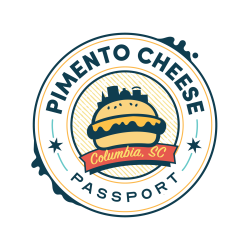 Today you can enjoy pimento cheese at almost any restaurant you stop in, and because no two serve it up the same way you'll have plenty of exploring to do to find your favorite. Dig in with our Columbia SC Pimento Cheese Passport to get started.
Looking to start your day off the right way? Try Café Strudel Lexington's famous low country hash browns topped with pimento cheese before exploring Lexington's bustling main street in one of the fastest growing areas around Columbia. Still got a hankering for that cheesy goodness around lunchtime? You'll need to head to The Root Cellar and order their southern egg rolls filled with homemade pimento cheese, pulled pork, and Root Cellar BBQ sauce - an original and flavorful twist on this southern delicacy. 
Looking for somewhere to rest your legs after walking through Soda City? You don't have to go far! If you're lucky you can grab an outside table and explore a vegan pimento cheese option at Good Life Café. If you missed them at the market, head over to Rambo's Fat Cat Biscuits and try their chipotle pimento cheese and sausage biscuit. According to them it's the one that put them on the map!
Download the passport, get Insta-inspiration for your #RealColumbiaSC pimento cheese pictures, and use this as a fun, delicious tour guide around the city.