Girls on the Run for the Governor's Cup Road Race on Nov. 8
Monday, November 3, 2014 11:00 AM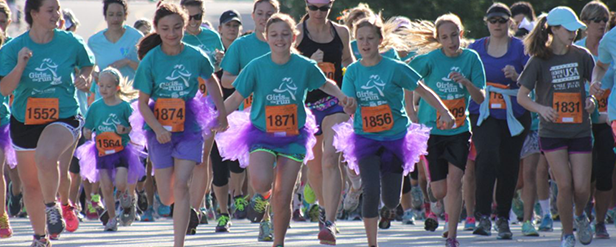 Columbia, S.C. - (November 3, 2014) The Columbia Regional Sports Council (CRSC) is proud to assist the Carolina Marathon Association and the Lexington Medical Center in the 42nd Annual Governor's Cup Road Race this Saturday, Nov. 8.
[[endteaser]]
The Governor's Cup has selected Girls on the Run (GOTR) as the event's beneficiary for a third consecutive year. GOTR is an after-school program that inspires girls to be joyful, healthy and confident using a fun, experience-based curriculum that creatively integrates running.
"I believe it is critical to build strong girls who believe in themselves, value teamwork and understand the importance of giving back to their community," said Mary Lohman, executive director of GOTR Columbia. "We are honored that Governor's Cup has chosen to support GOTR. This event is a wonderful example of the strength and involvement of our local community. "
Governor's Cup participants are encouraged to become SoleMates - runners who commit to raising money for GOTR while training for the half marathon. SoleMates receive online fundraising pages, a half marathon training plan and incentive prizes for reaching goals.
Proceeds from the race will help make GOTR's services available to girls who would otherwise be unable to participate in the program. GOTR provides fall and spring seasons, with locations throughout Kershaw, Lexington, Richland and Sumter counties.
"The Governor's Cup does so much to contribute to a local appreciation of running and fitness," Lohman said. "As a recent participant explains, 'Girls on the Run encourages me to go after my dreams because when I run I feel strong and brave.' GOTR staff and volunteers look forward to cheering on the brave Governor's Cup runners and walkers on Nov. 8!"
Dr. Russell Pate, director of the Governor's Cup, said, "The goal of the Governor's Cup is to promote health and fitness in our community. Accordingly, we are thrilled to continue our relationship with Girls on the Run, an organization that is providing critically important services to a growing number of young ladies across the Greater Columbia area."
For more information, contact Scott Powers, executive director of the Columbia Regional Sports Council or visit GOTR's volunteer page to learn about more available opportunities.
About Columbia Regional Sports Council
The mission of the Columbia Regional Sports Council is to strengthen the area's economy by marketing and selling Columbia, S.C. as a premier destination for sporting events, partnering with local sports organizations to grow and develop existing events, and by recruiting new events that provide an economic benefit to the region by generating room nights, food and beverage sales, and associated tax revenues. For more information, visit columbiasportscouncil.com.
###