MEDIA CONTACT:
S. Scott Powers
Columbia Regional Sports Council
803.545.0009
spowers@columbiasportscouncil.com
Men in skirts (kilts) toss tree trunks (cabers) at Tartan Day South
First time Highland Games & Celtic celebration coming to Columbia
Cayce, S.C.
- (March 4, 2011) - Highland Games will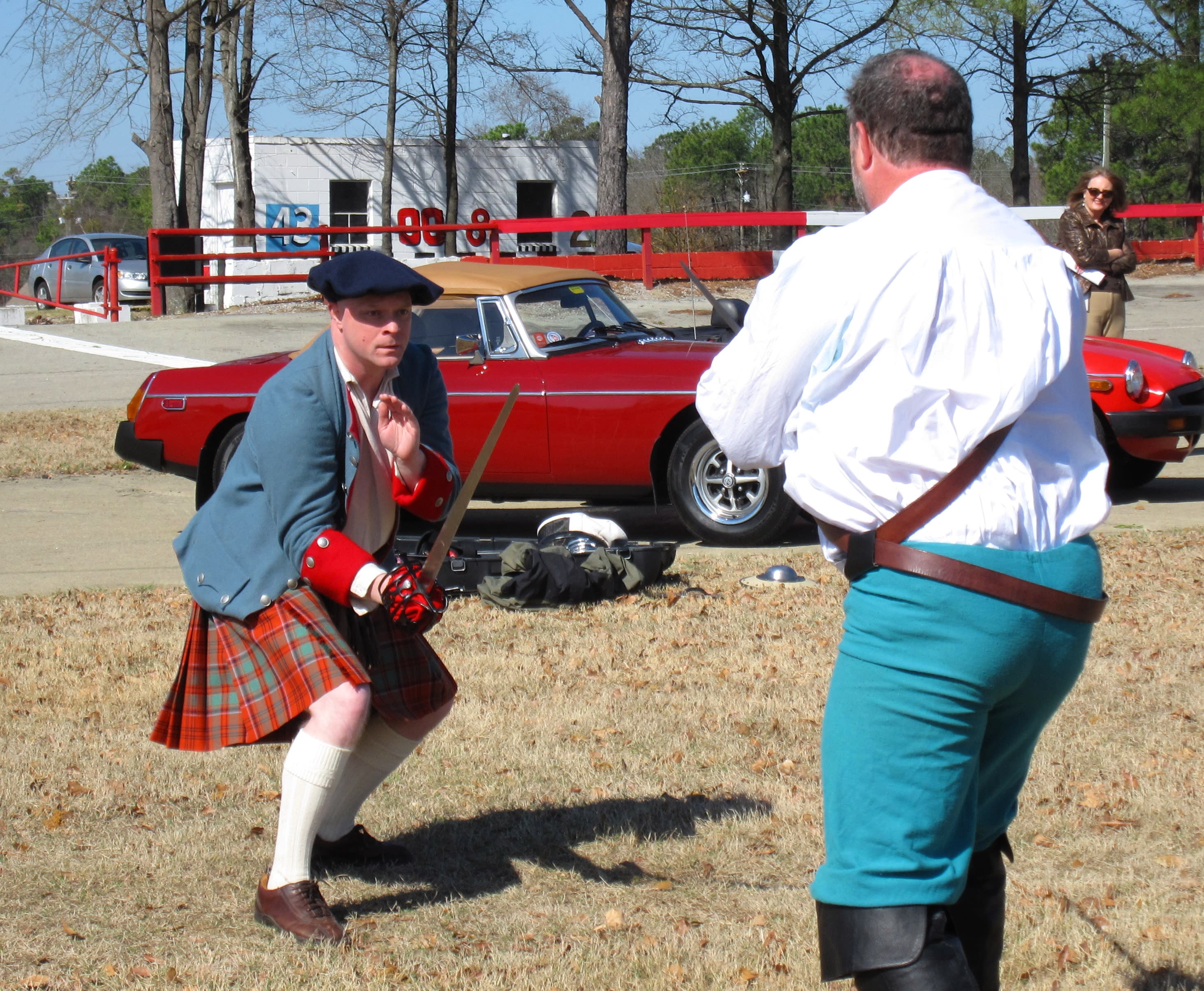 make its first appearance in
Columbia
, S.C., on April 2, 2011, from 10:00 a.m. to 8:00 p.m. at the
Historic
Columbia Speed
way
in Cayce. Highland Athletics are nine strength based competitions that predate recorded history. In the caber toss, competitors toss and flip a tree trunk measuring over 18 feet. The games are only a part of a much larger Celtic celebration labeled
Tartan Day South
. The celebration will include nine hours of live music, Celtic dancing, pipe bands, herding demonstrations, British car and motorcycle show, artisans and much more. The festival promises patrons the opportunity to enjoy true Irish and Scottish culture just five minutes from the Statehouse and Downtown Columbia.

Tartan Day South was created around National Tartan Day, April 6, to recognize that Americans of Scottish descent have played a "vibrant and influential role in the development of the United States." The festival was developed in Columbia because of the tremendous concentration of Irish and Scottish descendents in South and North Carolina.

"The [Historic Columbia] Speedway lends itself perfectly for handling an event of this nature. The nine acre grass infield provides the space necessary to hold multiple activities at the same time. The venue offers plenty of parking just moments from downtown and I-26," said Donavan Murray, President of Celtic Force Enterprises, a company that helps produce other such festivals around the region.

The event will be the kick-off to the Highland Games season throughout the Southeast. The celebration begins Friday, April 1, with a dinner and reception at the event's host hotel, the Holiday Inn & Suites Columbia-Airport on McSwain Drive in West Columbia. The evening will host a whisky tasting as well as a kilt fashion show with live music to season the night. The event moves to the Speedway on Saturday, April 2, 2011, for a full day of festivities.

Highland Athletics are in many ways the precursor to many of our current track and field events. These contests will be done old school in a manner established hundreds of years ago wearing traditional kilts. The events include the stone toss (16 and 22 pound), hammer throw, weight for distance (28 and 56 pound), weight for height (56 pound), sheaf toss over a bar, and the caber toss. Professionals and amateurs will be competing at Tartan Day South for season long points.

The festival will be full of cultural demonstrations like bag piping, drumming, Irish step, Scottish country, and Highland dancing. A "Bird of Prey" organization will demonstrate the art of falconry while border collies show off their sheep herding prowess. The Palmetto Fencers will perform swordsmanship demonstrations. Artist and storytellers will be on hand to truly give a full flavor of the Celtic experience. True to the speedway's heritage, cars of the British Isles will be on display.

If you do not own your own kilt, there will be a Celtic marketplace with an array of unique products to take the experience home. A taste of the British Isles will be provided by Celtic vendors as well as standard American fare. There will be plenty of educational opportunities and play areas for the kids. They will even be given their time on the field in a mini-game, hands on activity.

Celtic Music will fill the air at the festival with live performances from no less than eight bands. The line-up includes:

RATHKELTAIR is one of North America's premier Celtic rock bands. Based in Jacksonville Beach, Florida, and touring internationally since 2003, delivers one of the most energetic, entertaining, audience-friendly shows you will see anywhere.

BARLEYJUICE was born out of Rock and Roll, reared on British Invasion, Country Western and Progressive Rock, and landed somewhere in the North Channel with a penchant for all things Celtic.

THE BLESSED BLEND are NAMMY nominated musicians composing and performing original and ancient songs blending Native American and Celtic music.

CUTTHROAT SHAMROCK hails from the land of blue smoke and white lightening, and manage to meld the traditions of Ireland, the rhythms of Appalachia and the bite of punk into every setting they invoke.

THISTLEDOWN TINKERS, seasoned music veterans from N.C., weave traditional Scottish and Irish music with original creations while adding a southern swagger that sets the stage on fire.

DAVEY MORRISON, musician, sculptor, writer and native son of Scotland, now lives in the U.S., but embodies the uniqueness of the Celtic spirit. Davey will be singing songs, playing flute, telling stories and passing on his experiences as a Scot that relocated to America.

MARCILLE WALLIS, an accomplished hammer dulcimer player, has been captivating music lovers of all ages with haunting melodies from Brittany and Galicia, rousing reels and jigs from Ireland, and traditional Scottish pipe tunes with a non-traditional twist.

Colm O'Brian & Sean Conner from Dublin will fill out the all day music presentations.

Clans and heritage organizations will be on hand to discuss their family's role in Celtic history. This year's honored groups include The Ancient Order of Hibernians, Society of Scottish Armigers, and The Charleston Scottish Society. Along with the Clan organizations other experts will be on-hand to provide genealogy information and assist you in finding your family tartan.

The featured charity, Celtic Heritage International Exchange Foundation, facilitates the exchange of young musicians and artist between the US and the Celtic nations. The 501C-3 non-profit organization is based in the upstate of South Carolina.

The Historic Columbia Speedway is located approximately one mile past Maurice's Piggy Park at 2001 Charleston Highway in Cayce. Traveling on I-26 take exit 115 then proceed about 1.5 miles back towards downtown on Highway 321.

The parking is complimentary, and admission at the gate is $10.00 or $5.00 for ages 5 to 12. There is no admission fee for children under 5. Special family rates are available online for presale until March 28. For more information, visit tartandaysouth.com or contact John Banks at (803) 665-7620.
###

About Historic Columbia Speedway
The Historic Columbia Speedway, located at 2001 Charleston Highway in Cayce, has a deep-rooted history that includes some significant firsts. A young Richard Petty ran his first race there on July 12, 1958 in a 1957 Oldsmobile convertible. He won his first ever race there a year later on July 17, 1959. Columbia Speedway became the spot of the first NASCAR race to be held under the lights when the Grand National series made its first ever stop there on Saturday night June 16, 1951. That night Studebaker got its first and only NASCAR victory when "The Rebel" Frank Mundy got to the checkers first. Chevrolet got its first NASCAR win at Columbia Speedway when Fonty Flock drove a 1955 Chevy to victory on March 16, 1955. Other first include Buck Baker's first Grand National victory on April 12, 1952 in a 1951 Hudson. Buddy Baker ran his first ever race at this historic track on April 4, 1959 in a 1958 Chevrolet. All the stars of the sport during that era raced at Columbia. Ralph Earnhardt, Lee Petty, Curtis Turner, Tiny Lund, David Pearson, Cotton Owens, Little Bud Moore, are only a few of the greats who came to race there.

About Columbia Regional Sports Council
The mission of the Columbia Regional Sports Council is to strengthen the area's economy by marketing and selling the Columbia, SC region (City of Columbia, Lexington County, Richland County) as a premier destination for sporting events, partnering with local sports organizations to grow and develop existing events, and by recruiting new events which provide an economic benefit to the region by generating room nights, food and beverage sales, and associated tax revenues.