Everyone Has A Dream or a Great Idea - What's Yours?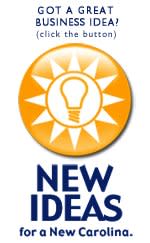 Do you want to win $5000? Do you have a big idea for a business? If so, then enter your idea at http://www.newideassc.com/ starting October 1, 2008 and ending December 2, 2008.

Share your ideas for business that stoke your fire, blow your mind and show your get-up-and-take-charge-of-my-dream spirit.  Your idea could bring new jobs, new energy, new talents, new life and new wealth to South Carolina.

South Carolina's fourth annual New Ideas for a New Carolina Business Idea Contest officially launches October 1, 2008.  The New Ideas Dream Team, a coalition of representatives from SC Launch!, New Carolina - SC's Council on Competitiveness, FastTracSC, ThinkTEC and other organizations around the state will spend October and November touring cities throughout South Carolina promoting this year's contest.  South Carolina entrepreneurs can submit their ideas for a business until December 2nd at http://www.newideassc.com/. 

The winners will be announced at the ThinkTEC Innovation Summit in Charleston on February 11, 2009. This year's contest award the grand prize winner $5,000 of seed money for their business idea, a scholarship to FastTrac® entrepreneurial training program, tickets to the ThinkTEC Innovation Summit and a Dream Team of Mentors to help the winner cultivate their idea.  Four first place prizes of $2500, a scholarship to FastTrac® and tickets to the ThinkTEC Innovation Summit will be distributed as well as five $1,000 honorable mention prizes.  Also, the contest will feature once again, the People's Choice category where the residents of South Carolina will be able to vote for their favorite idea.

So what are you waiting for?  Enter your Idea at www.NewIdeasSC.com by December 2nd for a chance to win!

Click the following link to download the New Ideas Contest Flyer!