Leading Business Ideas Submitted for the Third Annual New Ideas for a New Carolina Contest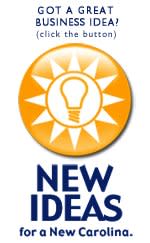 Columbia, SC, March 7, 2008 - South Carolinians have big business goals and great ideas! The 2008 New Ideas for a New Carolina statewide business idea contest has been receiving many great submissions since the contest opened in late January. Open to all South Carolina residents at least 18 years old, dreamers and would-be entrepreneurs have until May 1 to enter for the chance to win seed money and access to FastTrac programs to make their business idea a reality. Entries can be submitted at http://www.newideassc.com

To date, close to 60 ideas have come in from around the state, the majority from the Charleston metro area.

"I can see that this is going to be a healthy competition this year. Last year the Midlands led the pack, with wins coming from that area, so we hope all the creative people in the Pee Dee, Upstate and Midlands will rise up to the challenge the Lowcountry has posed early in the contest," said George Fletcher, executive director, New Carolina. "We'll be at contest mid-point by the InnoVenture conference in Greenville on March 25th, where we'll have a vendor booth set up so participants can submit an idea on the spot."

Prizes and People's Choice Voting
Prizes for the 2008 contest will be awarded at the ThinkTEC Innovation Summit June 4 in Charleston in the categories of Engineering, Information Technology, BioScience, Environmental Sustainability and a Wild Card category. There will be one $5,000 Grand Prize, four $2,500 First Place Winners and five $1,000 Runners-Up. Winners will also receive a scholarship to FastTrac entrepreneurial training programs and the Grand Prize winner will have access to a Dream Team of Mentors to help cultivate the idea. The Dream Team consists of business leaders throughout the state, representing a variety of disciplines, who have committed to giving counsel to New Ideas for New Carolina winners. Ideas are judged by South Carolina leaders from angel capital groups, businesses, non-profits, government entities and educational institutions. Winners are chosen based on the idea's viability, innovation/vision and profit/revenue potential.

Winning the New Ideas for a New Carolina contest can turn dreams into real businesses. "Since winning the 2007 contest, we have formed strategic alliances and are building relationships with suppliers of key raw materials," says William Floyd, founder AQUES Chemical Consulting Group, LLC, Chester, SC. "I've met a lot of interesting people and learned a lot of new things in the past year! My biggest advice to would-be entrepreneurs is 'Believe in yourself. If you don't, why should anybody else?'"
About New Ideas for a New Carolina

An idea out of the Charleston Metro Chamber of Commerce to promote the FastTracSC program, New Ideas for a New Carolina and the 2008 contest is powered by New Carolina - SC's Council on Competitiveness and its partners: FastTracSC, ThinkTEC, InnoVenture, NEXT, the Florence Chamber of Commerce and SCLaunch!, the contest's main sponsor, and a number of other state and local organizations with a shared vision for a brighter future for South Carolina.