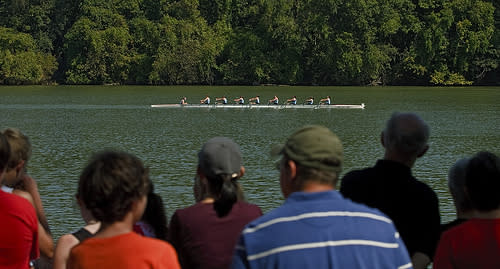 Columbia, S.C. (Tuesday, October 4, 2011) - The Columbia Regional Sports Council is proud to announce that the Columbia Rowing Club (CRC) is set to host the Second Annual "Head of the Broad Regatta," this Saturday, October 8, 2011, at the Richland County Rowing Center on the Broad River. Adult, collegiate and youth crews from across the Southeast will compete on the three mile course.
 
"Our goal with this regatta is to get more Columbia area residents involved in the wonderful sport rowing," said event director, George Park. "We have such awesome, natural venues here in the Columbia region that is ideal for this sport and it's our job to make the community, and the surrounding areas, aware of this fun sport, activity and venue readily available to them."
The Head of the Broad Regatta is held to promote and increase participating in rowing, especially among young in the Midlands. All proceeds from the regatta will be used to support the Columbia Rowing Club Youth Rowing.
This free event is open to the public, with races beginning at 8:00 a.m. The event will feature a course measuring 4000 meters (2.48 miles) that will run north to south along the Broad River.
In addition to rowers from Columbia Rowing Club, crews from the Augusta Rowing Club, Asheville Rowing Club, Catawba Rowing Club in Charlotte, Raptors (Charleston) Youth Rowing and the College of Charleston are expected. Competition will include singles (one rower with two oars), doubles (two rowers with two oars each), quads (four rowers with two oars each), fours with cox (four rowers with one oar each) and eights with cox (eight rowers with one oar each).
 
For directions to the rowing site or additional information about the 2011 Head of the Broad Invitational Regatta and the Columbia Rowing Club please visit www.columbiarowingclub.com. For information regarding youth rowing in Columbia please visit www.carolinayouthrowing.net. 
 
About the Columbia Rowing Club:
Columbia Rowing Club is a 501(c)(3) charitable organization aimed at increasing the participating in rowing in the Columbia area.

About the Columbia Regional Sports Council:
The Columbia Regional Sports Council is a non-profit organization committed to serving as the central clearinghouse for information regarding the sponsorship, promotion, and coordination of sporting events, facilities and associations in the Columbia Riverbanks Region. For more information about the Columbia Regional Sports Council, please visit columbiasportscouncil.com or contact Scott Powers at 803.545.0009.
                                                                                    ###