Contact:
Lindsay Burke
803.779.8717, x1141
or 803.873.0765
lburke@riverbanks.org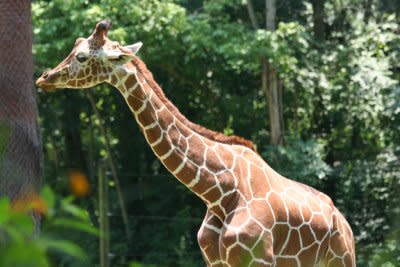 Start the New Year with a Free Trip to the Zoo
Free Fridays Begin this Week

[Columbia, SC] - Start the New Year with a free trip to the Zoo. Riverbanks' Free Friday program begins this Friday, January 2 and continues through February 27. Each Friday during the months of January and February residents of Richland and Lexington counties will receive free admission to Riverbanks Zoo and Garden.

"The Free Fridays program is a way for Riverbanks to give thanks to the residents of Richland and Lexington counties for their support of the Zoo and Garden," said Satch Krantz, executive director of Riverbanks Zoo and Garden.

Riverbanks is a special purpose district and receives funding each year from the taxpayers of Richland and Lexington counties. To qualify for free admission, Richland and Lexington county residents will be asked to show proof of residency with a valid ID or a copy of their property tax statement. All other visitors will be charged regular admission.

Riverbanks' winter hours are 9 a.m. to 5 p.m. daily. January and February make for a great time to visit the Zoo because many of the animals are most active during the cooler winter months. There are also several indoor exhibits where guests can step in from the cold. These exhibits include: the Birdhouse at Riverbanks, Aquarium Reptile Complex, Gorilla Base Camp and Koala Knockabout.

Riverbanks Zoo and Garden is located at I-126 and Greystone Boulevard near downtown Columbia. The Botanical Garden entrance is located in West Columbia off Hwy. 378 at Botanical Parkway. Hours are 9 a.m. - 5 p.m. and the zoo is open daily except for Thanksgiving and Christmas. Admission is $9.75 for adults, $7.25 for children ages 3-12 and free for children under three. Group rates and other discounts may apply. For more information, call Riverbanks at (803) 779-8717 or visit http://www.riverbanks.org/.