Columbia Attractions and Restaurants Honor Veterans with FREE Admission & FREE Meals
Monday, November 9, 2009 3:10 PM by Mandi Engram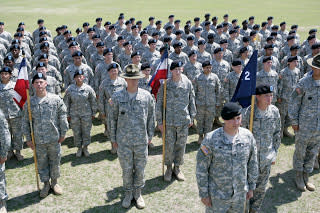 Free Admission for all Active Duty, Veterans and their Families on Wednesday at Columbia Museum of Art
The
Columbia Museum of Art
is honoring all veterans, active military and their families by offering FREE admission TODAY from 10:00 a.m. - 5:00 p.m. All museum galleries will be open including the exhibitions, Ansel Adams: Masterworks and The Dorothy and Herbert Vogel Collection: Fifty Works for Fifty States.
Veterans and Active Duty Military Eat Free at Applebee's® on Wednesday, November 11
Applebee's is honoring veterans and active duty military on Veterans Day with a free meal. Simply show proof of military service. The offer is available during business hours on November 11, 2009 at participating Applebee's only. Dine-in from limited menu only. Beverages and gratuity not included. Veterans and active duty military simply show proof of military service. For additional information, please visit
http://www.applebees.com/vetsday
.
Free Admission for all Active Duty, Retired Military Personnel and Veterans on Wednesday at Riverbanks Zoo & Garden
On Wednesday, November 11, in honor of Veterans Day, Riverbanks Zoo and Garden will offer free admission to all service men and women when they present their military ID card.
'This is a small gesture to for the service men and women who have dedicated their lives to our country,' said Satch Krantz, executive director of Riverbanks Zoo and Garden. 'We are proud of their accomplishments and their commitment to our country.'
Family members who accompany military personnel and veterans are eligible for the Riverbanks' military discount price. Tickets will be $8.50 for adults, $7.25 for children ages 3 - 12 and free admission for children 2 and under.
In addition to recognition on Veterans Day, Fort Jackson Basic Combat Training graduates who come to the Zoo in uniform on the Friday of their graduation receive free admission.
It is the mission of Riverbanks Zoo and Garden to foster appreciation and concern for all living things. Riverbanks is located at 500 Wildlife Parkway, Columbia, SC 29210. The Botanical Garden entrance is located at 1300 Botanical Parkway, West Columbia, SC 29169. The park is open daily from 9am to 5pm, except for Thanksgiving and Christmas day. Admission is $9.75 for adults, $7.25 for children ages 3 ' 12 and free for children 2 and under. Group rates and other discounts may apply. For more information, call Riverbanks at 803.779.8717 or visit
www.riverbanks.org
.