Contact:
Riverbanks Zoo & Garden
PR Department
(803) 779-8717, ext. 1141

TICKETS NOW ON SALE FOR 5TH ANNUAL WINE TASTING AT RIVERBANKS BOTANICAL GARDEN

More than 175 Wines Featured at This Year's Event [Columbia, SC] - Riverbanks invites wine enthusiasts to bask in the beauty of the Garden while sampling from more than 175 domestic and imported wines at the fifth annual Wine Tasting at Riverbanks Botanical Garden.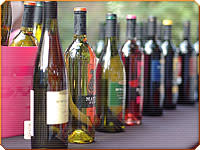 On Friday, April 18, from 7:00pm to 9:30pm Garden guests armed with a tasting glass and a wine guide will swirl, sample and consult expert vintners to help find the perfect wine for their palate.
"This exclusive after-hours event has developed into a premier affair and has a great reputation within the community." said Satch Krantz, executive director of Riverbanks Zoo and Garden. "The ambience created by the beautiful springtime Garden is one of the main reasons this event is such a success."
Guests will discover new favorites at stations set up throughout the Garden walkways and delight in savory light bites that are offered to complement the wine selection. Several wine professionals will be on hand to answer even the simplest of questions on the flavor and origin of each wine available.
As people mingle and the wine flows, so will the sound of smooth live jazz by Little Cat Z. The local four-man band, led by vocalist Don Russo, is back again by popular demand.
To preserve the intimacy of the event a limited number of tickets will be sold. Admission is $40 for Riverbanks members and $50 for the general public and tickets are on sale now. All ticket proceeds support the conservation and education efforts at Riverbanks. Tickets can be purchased online or at the Zoo or Garden entrance.