Meet me at Crafty Feast December 12
Monday, November 30, 2009 4:10 PM by Mandi Engram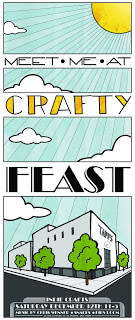 Tired of shopping for gifts at chain stores? Then join us on December 12 at the historic Tapp's building in downtown
Columbia
for something different. Shop independent!
Over 35 vendors from the Southeast will be participating in Columbia's independent craft fair. These crafters focus on experimental, nonh-traditional and unique handmade or repurposed crafts. Vendors are coming from Columbia, Asheville, Charleston, Charlotte and other cities to bring their original jewelry, bags, clothes, funky children's items and more. For a list of vendors, please visit the website at
www.craftyfeast.com/vendors
Come for the day, shop for some indie crafts, listen to some music by Chris Wenner, watch live art from izms of art, eat some snacks, and have your kids create some crafts.
Admission is Free!
'Meet me at Crafty Feast'
will take place on
December 12
from
11:00 am ' 5:00 pm
at the
Tapp's building
on the corner of Main and Blanding. See you there!
Crafty Feast is sponsored in part by the
City of Columbia
and the
City Center Partnership
.
For further information on Crafty Feast please contact:
Debi Schadel
803-348-8861
CraftyFeast@gmail.com
www.craftyfeast.com