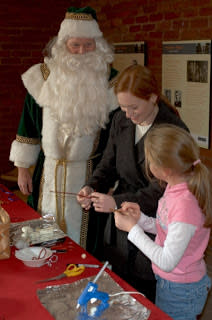 Parents wondering what to do with the kids when school is out for the winter holidays need look no further than Winter Fest, the South Carolina State Museum's annual holiday tradition.

Now in its third year, Winter Fest, a two-week long celebration of the winter season, kicks off Saturday, Dec. 19, from 10 a.m. ' 4 p.m., and runs until Sunday, Jan. 3. 'On Dec. 19 at noon, our guests will enjoy musical selections from Tchaikovsky's immortal 'Nutcracker Suite' played by the Lake Murray Chamber Orchestra,' said State Museum Director of Programs and Education Meika Samuel. 'Plus, we'll have seasonal crafts and Winter Star Lab portable planetarium shows for exploring the winter sky.'

Also dropping by on Dec. 19 will be Santa, the 'right jolly old elf' himself, who will make the first of four appearances at Winter Fest that day. He'll be back to spread holiday cheer on Dec. 21, 22 and 23.

Winter Fest continues Sunday, Dec. 20 with a special holiday concert by gospel singers Levitical Praise at 3 p.m.

Other highlights of Winter Fest include 'Shortest Day, Longest Night,' a day of programs on the winter solstice, Monday, Dec. 21, said Samuel. The day's activities include winter solstice crafts, winter Star Labs and a musical performance by Generation of Darlington High School.

On Tuesday, Dec. 22, museum guests will learn more about winter holidays around the world with multicultural displays and performances.

Wednesday, Dec. 23, children and their parents can celebrate the winter school break with Dinosaur Day at the State Museum. Families can enjoy dinosaur crafts and two showings of the popular hit movie 'Ice Age: Dawn of the Dinosaurs,' at 11 a.m. and 2 p.m. Additional showings of 'Ice Age: Dawn of the Dinosaurs' can be seen on Saturday, Dec. 26 and Thursday, Dec. 31.

'Also during Winter Fest, amateur photographers whose Christmas wish is to learn how to take photos like a professional can learn the basic rules that accomplished photographers follow to produce beautiful photos,' Samuel said. 'Five star Canon master photographer Manuel Gaetan will lead a photo seminar Tuesday, Dec. 29 at 1:30 p.m.'

The Museum will present winter Star Lab programs all during Winter Fest. These 30- minute portable planetarium shows ($3 per person) focus on seasons, constellations and moon phases. Star Labs will be presented Dec. 19, 21-23, 26, 28-31, and Jan. 1-2.

In addition, local potter Paul Moore will give pottery-making demonstrations on a treadle potter's wheel on Wednesday, Dec. 23, Wednesday, Dec. 30 and Thursday,

Dec. 31.

'Seasonal crafts and special holiday movies will be offered every day from

Dec. 19 through Jan. 3,' said Samuel. 'Plus, we'll offer a selection of short seasonal films every day at 2 p.m. with a marathon of four movies on Wednesday, Dec. 30. It's a sleigh full of activities that we hope people will want to return to several times.'

Unless otherwise noted, events are free with membership or admission. Winter Fest continues through Sunday, Jan. 3. For more information and a full schedule of events, call (803) 898-4952 or visit www.southcarolinastatemuseum.org.

#####