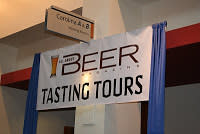 Tickets Now on Sale and Volunteers Needed
The 2011 World Beer Festival(WBF) will be held January 22, 2011 at the Columbia Metropolitan Convention Center.
The World Beer Festival, presented by All About Beer Magazine, is committed to educating the public about the true diversity in beer varieties. Over 100 breweries will be present featuring a variety of beer >http://www.allaboutbeer.com/.
Volunteers are integral to the success of the World Beer Festival each year and charity partners, the River Alliance and COR, help recruit and manage the volunteer staff. Volunteers are fashioned with a WBF t-shirt and are treated to a special volunteer-only event after the festival that includes sampling of beers from the festival, tasty food and a raffle for fun beer related prizes. Volunteer recruitment is currently underway and if you are interested, please visit
http://worldbeerfestcolumbia2011.eventbrite.com/
.
The mission of the World Beer Festival is to educate the public in beer appreciation and beer quality, and to build the local beer community. Every aspect of the World Beer Festival focuses on promoting the positive attributes of the growing beer culture.
All About Beer Magazine publishes the best of beer six times a year with two additional bonus issues each year. Subjects range from beer history and culture to beer travel and entertaining as well as beer brewing and storing. For more information, please visit
www.allaboutbeer.com
.