Biking
Bike Share
Get Started
Want to see Columbia's many entertainment districts without worrying about parking? Explore our city on two wheels with the Blue Bike SC bike share program. Follow these instructions and shift into overdrive.
-Find one of the on-street station kiosk locations and follow the subscription steps.
-With a simple credit card payment you will be issued a temporary card providing you with access to a Single-Trip, 24H Pass or Pay-As-You-Go OR download the Blue Bike Mobile App and follow the subscription steps. Your phone will then give you direct access to the 24HR Pass or the Go Pass ($5 registration fee, then $2 per ride).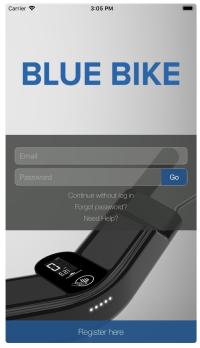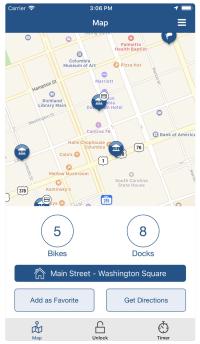 -Choose your Blue Bike ride by tapping your Blue Bike card on the screen located between the handlebars, or gain access directly on the Mobile App. 
-Follow the on-screen instructions and the bike will unlock. You are now free to enjoy your ride! Be sure to check the timer on the bike. The first 45 minutes of every ride is included in all memberships. Each Additional 30 Minutes = +$2.00
Make a Pit Stop
Want to make a quick stop? You can use the secondary lock for an errand or to ask a local for recommendations. 
-When you're ready, park your Blue Bike, place the lock in its slot and wait for the locking signal to turn on. The Blue Bike will still be rented under your name and the timer continues to run until you return it to a docking station.
-To unlock, tap your membership card on the identified section of the bike screen or use your Mobile App and continue your ride.
Dock Your Bike
Ready to stop riding? 
-Choose any station and park your Blue Bike. When you see the "docked bike" indication appear on the bike screen or hear the return sound, you have properly returned your bike.
-Check out the website for tips on what to do when docking stations are full - there's a solution for everything.
Sprocket
Bike-Friendly Routes
If you travel with your own bicycle, we're impressed, and we have the app for you. Sprocket, created by the Cola Town Bike Collective, provides curated bicycle routes through the Midlands based on a rider's comfort level as a bicycle user. Simply open the app on your phone to quickly get a map and navigate through the city. Find out more here.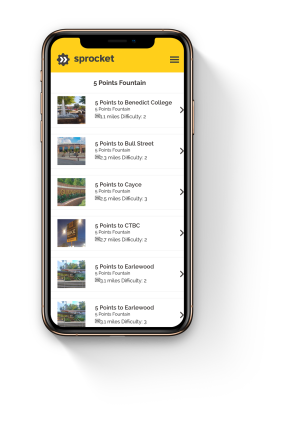 Now that you've got all that exercise in, we suggest following it up with a bite to eat or a drink to sip. Check out Columbia's burgeoning restaurant scene for tips on where to refuel.