Fall in East Tennessee:
Cool mountain breezes, trees with changing leaves, and Saturdays filled with orange and white tees. It's almost gameday on Rocky Top and as a visiting fan, we are so glad to have you join us here in Knoxville for a home-game weekend!
If you've never been to Knoxville, you might be surprised when the skyline emerges from I-40 and I-75. Many people, maybe you included, have always thought of Knoxville as a quaint college town, but we feel confident you will find that it is so much more. Over the last few years, Athletic Director Danny White and University of Tennessee Chancellor Donde Plowman have coined Knoxville as a "college city" where the university is still integral to its identity yet offers so much more. 
Gameday weekends in Knoxville offer a variety of activities for all to enjoy. Market Square is the epicenter of downtown Knoxville with shops, restaurants and rooftop bars lining each side of a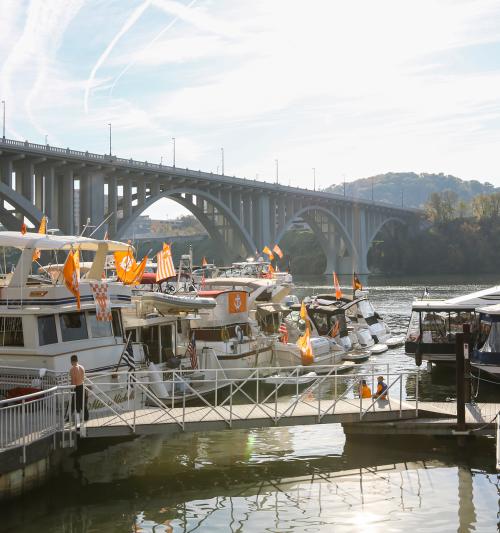 square open only to pedestrian foot traffic. A few steps away, the Old City features revitalized, historical buildings now used as bars, art galleries, and a great nightlife scene. Gay Street runs right through the heart of downtown Knoxville and is home to one of Knoxville's greatest photo-ops, the Tennessee Theater marquee sign. So take your time, stroll through downtown, snap some selfies, and enjoy your own Knoxville experience!
Once the sun rises on gameday, head down to campus early to soak in some of the most revered traditions of an SEC gameday experience. We know Cockabooses are all the rage in Columbia, but here in Knoxville, we tailgate on boats! UT is one of only two schools in America known for this unique tailgate scene. The Vol Navy, as we affectionately call it, features hundreds of party boats lined along the Tennessee River in the shadows of Neyland Stadium. Without question, it makes Knoxville one of the coolest gameday experiences in the country. Take the Neyland Greenway from downtown and check it out for yourself! Maybe you'll end up "sailgating" with a few new friends!
Make your way to your seat at least 30 minutes early as you don't want to miss the highly popular pregame routine from the University of Tennessee Pride of the Southland Band. The Pride of the Southland is one of the most prestigious bands in the country and, this season, is the largest in UT's history with more than 400 members. The band has played at numerous presidential inaugurations and their pregame routine is one of UT's most time-honored traditions. Since 1961, the Pride of the Southland has held a standing on-field routine leading up to the entrance of the Tennessee Volunteers. It features salutes to the United States of America, the University of Tennessee, and the visiting team! Gamecock fans, listen closely as they will play Step to the Rear to officially welcome you to Neyland Stadium!
From your seat, get your phone out as you see the band spell the letters "USA" on the field. In just moments, the band will form the Power T and welcome the Tennessee Volunteers to the field. Regardless of team affiliation, this tradition is one respected around the college football world. Everyone remembers their first time seeing the Power T open and the players sprint through. Enjoy the moment, take in the sights and sounds, and enjoy your time with 101,000+ football loving friends. 
---
Follow Visit Knoxville on Facebook and Instagram to make your gameplan and head to http://goodolrockytop.com/ for stadium policies, maps and more. While you're there, be sure to download Cities of the SEC - a free, digital passport for ALL fans. Welcome to Big Orange Country! You'll see why we love when It's Football Time in Tennessee!