WELCOME GOLF FANS 
Because of our close proximity to Augusta (one hour to be exact) and an abundance of places to stay, Columbia SC is the best place for you to hang up your clubs for the weekend. Visiting for the tournament? Looking for somewhere to unwind with a hot meal or a cold drink after a long day watching the pros? How about some activities for the downtime before you head back home? We've got you covered with bites, brews, and fun for your stay in the heart of SC. 
We look forward to hosting you for the 2024 tournament ​April 8 - 14! 
Get your golf on 
Columbia is no stranger to golf courses of our own. If you're wanting to unwind on your free day, consider booking a tee time and have a tournament of your own. Many of Columbia's public and semi-private courses offer tee times for visitors looking to channel the moves of their favorite tour players. Enjoy an afternoon in Lexington at Golden Hills Golf & Country Club or over at Hidden Valley Golf Club. Columbia Country Club offers a non-member guest rate of $125 during Masters week, which includes cart fee, greens fee, range balls and tax. Is it time you got a green jacket in your closet?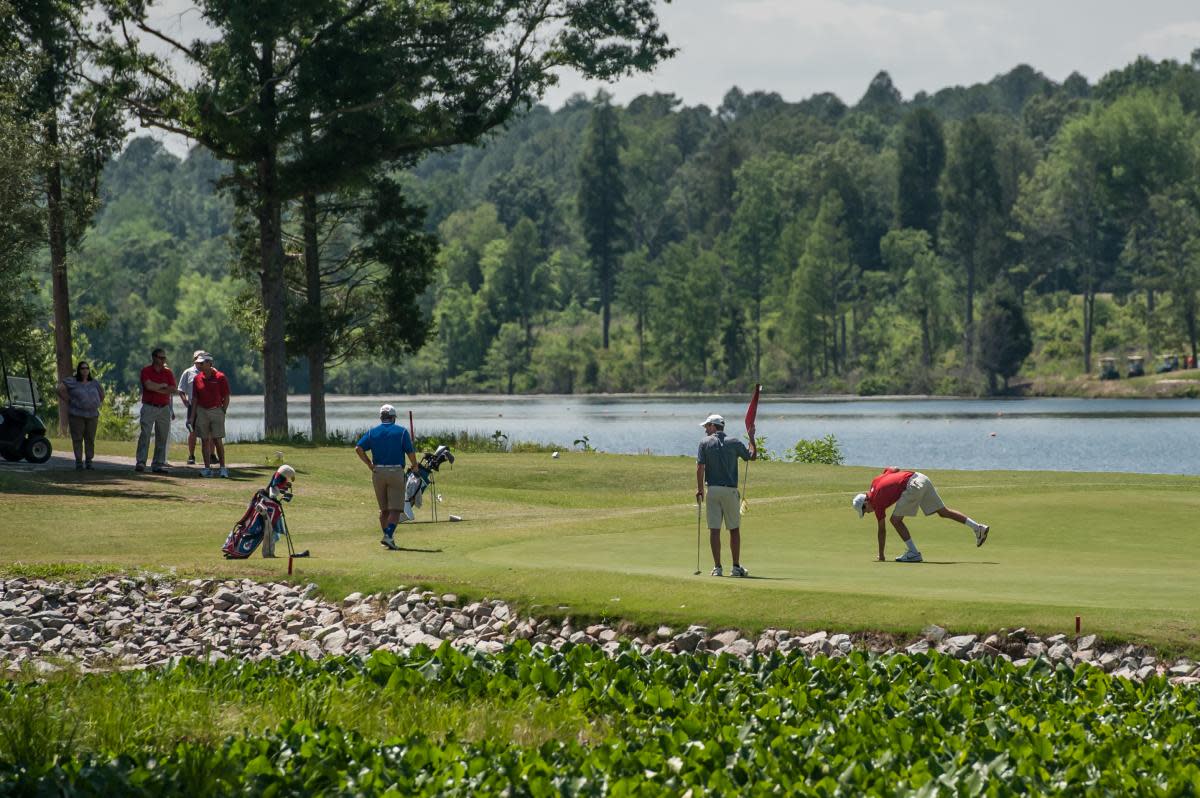 Where to stay
From boutique hotels, to full service stays, our region has a variety of local accommodations ready to welcome you and meet your needs! Search for a hotel below by entering in your desired days of stay.
Watch the action
Just because you're only heading to Augusta for one day doesn't mean you have to miss any of the suspense on the green. Here in Columbia SC we have plenty of local restaurants and watering holes for you to stay tuned in for all the updates.
If your hotel is on Main Street walk over to Market on Main, here you can sit on the outdoor patio with a drink and some plates to share and take in the jumbo screen sure to have the latest news from Augusta. Our breweries across the difference districts are equipped with varieties of beers and sport viewing spots. Head to Savage Craft in West Columbia, they have a plethora of beverages choices and viewing options. Or try out Craft and Draft in Irmo, gather with a large group and try a new drink while giving your best golf clap. Want to practice like the pros? The golfing suites at the Player's Club allow the group to practice their swings and grab a few drinks. 
Things to do 
If you didn't get your fill of southern favorite pimento cheese at the Augusta National Golf Course, Columbia SC restaurants are ready to fill your plate. Local favorite, DiPrato's is home to a pimento cheese dip appetizer with fresh in-house baked pita bread. Over in Lexington, you can find a twist on this southern classic at the Root Cellar. Grab their southern eggrolls filled with homemade pimento cheese, pulled pork and Root Cellar barbecue sauce. Wanting to get in on all the cheesy goodness? Grab a digital copy of our Pimento Cheese Passport to really enjoy this southern delicacy. Did the kiddos tag along for the trip? Make sure you're keeping them entertained by checking out our family-friend itinerary. 
Keep checking this page for more updates, trip ideas and activities while in town! 
Experience all of Columbia SC's attractions, from museums, festivals, parks, our world class zoo and more.
Details
Enjoy the great outdoors of Columbia, SC. Golfing, hiking, fishing, kayaking, boating, cycling and more.
Details
Whether you're into live music, lively bars or a quiet corner, you'll find a rollicking good time after dark in Columbia.
Details